Squamish 50/50
Squamish 50/50 takes the notoriously-challenging Squamish 50 miler, beats your legs to the ground on technical mountain bike trails (90 % singletrack) and 11,000 ft of climbing, and then somehow gets you back at the starting line the next morning to run a 50k on those same trails minus the flat start, packing in another 9,000 ft of gain. So, you're probably wondering, why would anyone sign up for this race?
Obviously, it's because finishers get a really cool hat.
Since this is a delayed race report, I'm going to keep it short and sweet with some finish line photos.
The weekend totaled 80+ miles and 20,000 ft of climbing/descent, but I pushed the hardest during that last 10k. I couldn't believe my legs were still working after a gnarly 50 miles the day before, and I realized the CR was within reach. But at mile 25 of the 50k, my watch kept ticking closer to the 7 hr mark and every turn/climb seemed to be further from the finish than I had remembered. So I filled my head with cheesy, positive mantras, and I pushed. Hard. I left it all out there on the course. I'm not sure I've ever really done that before.
I crossed the finish line with a combined 50/50 time of 16:39, setting a new women's CR by almost 20 min, and splits of: 50M – 9:48 (good for 3rd F and 11th overall) and 50k – 6:51 (3rd F).
This race is going kept my runner's high going for a long time 🙂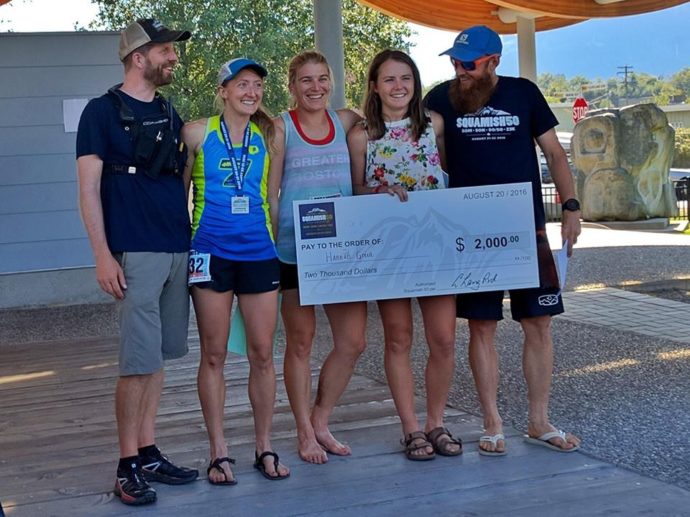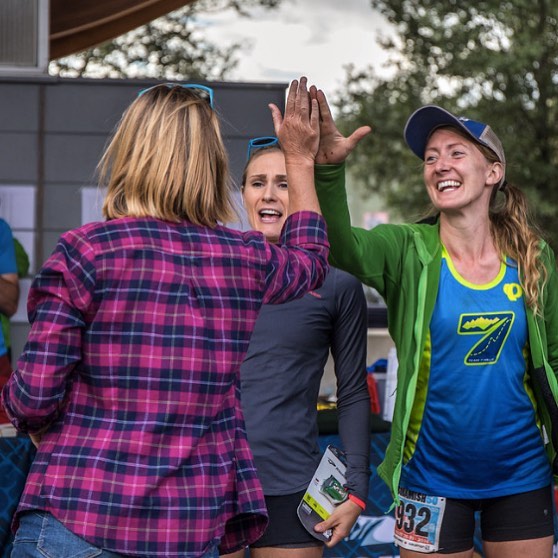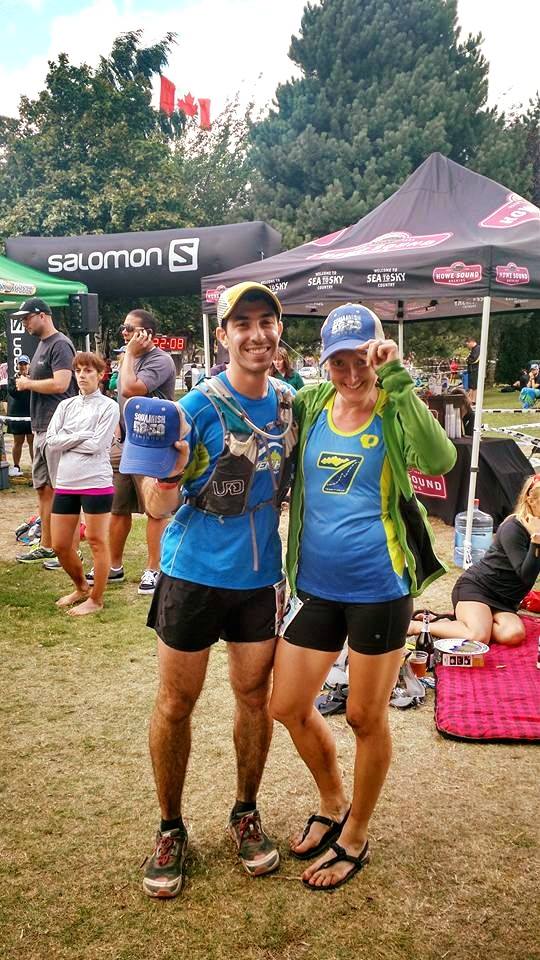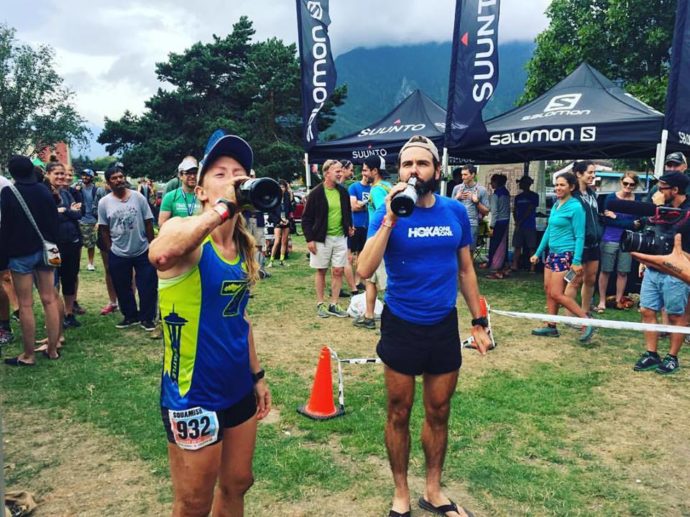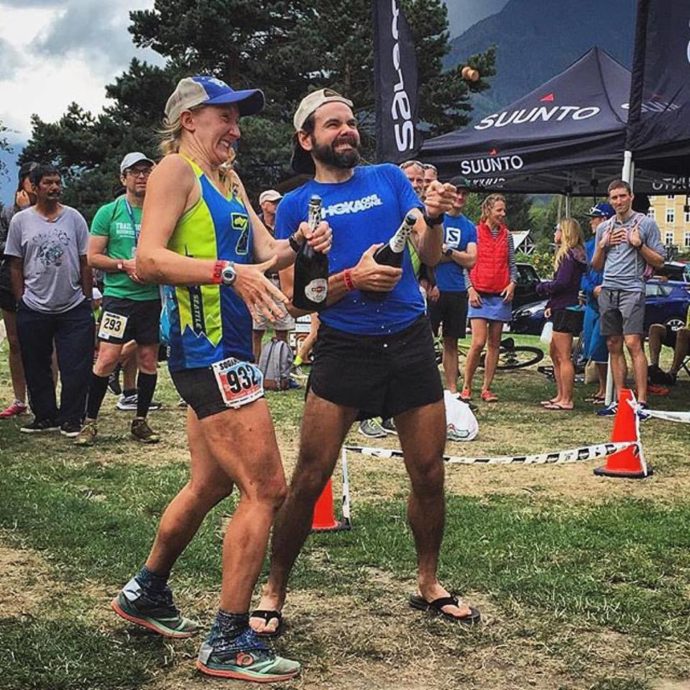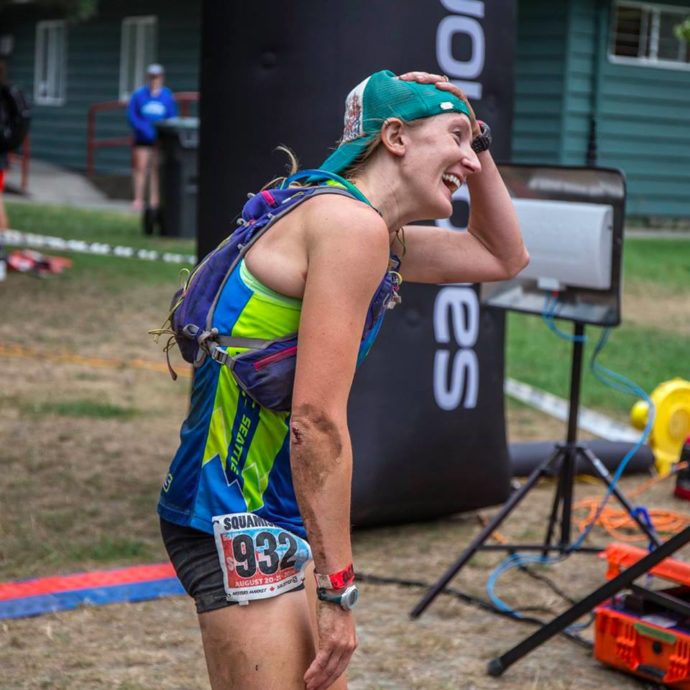 Thanks to the Squamish 50 crew (especially Gary Robbins for the endless celebratory hugs and to Dianna Chs for intimidating me just enough to actually train for the 50/50), to all of the AMAZING volunteers (special shoutout to the guy who gave me an ice-water sponge bath during the 50M!), to my parents who (unknown to me) were following along with the race via the finish line live streaming all weekend, to all of the friends (new and old) who cheered, supported, and motivated me along the way, and to Seven Hills Running Shop for making me feel like a total rockstar. And most importantly — thanks to Ely, who spent all summer training and adventuring with me, setting crazy back-to-back mountain objectives with the thought that "well, this might be good for 50/50 training, right?" and who is the most mentally tough 50/50 finisher out there.
Congrats to everyone else who braved the course – and to Mike Garcia for being an excellent running buddy on day 2 of the 50k!