Utah Runcation – Zion, Escalante, San Rafael Swell, & Moab
Kaytlyn and I both recently transitioned to new jobs, and in that process, the timing fortuitously worked out such that we could take a few days off to escape this particularly dreary Seattle winter. We packed a bunch of running/adventuring gear, purchased some flights, and headed south to the deserts of Utah.
I'll let the photos do most of the showcasing of our trip, but I do want to share a high-level recap of how we spent our days, plus some lessons learned that will influence how we travel in the future.
In general, the plan was to fly from Seattle to Las Vegas, rent a car, and drive around Southern Utah. We aimed to tag some national parks and trails of interest on the way to Moab, where we'd turn around and drive back to Vegas.
We had 8 days in total, and outside of our flights and an AirBnB we booked in Moab, we had no set plans or itinerary.
With the busyness of the weeks leading up to the trip, we weren't able to carve out time to do much research. Luckily, our good friend Christian took the time to send us a list of some of his favorite places to visit along this route. We ended up using his suggestions as our guides. His suggestions were amazing, and the combination of being in decent shape, always being up for an adventure, and good weather led us to have one the most fun vacations we've taken. So first and foremost, thank you, Christian!
Here's a day/day breakdown of our trip. We had a great mix of fitting a ton into each day but still having entire afternoons and evenings to unwind and relax back at camp. Low stress and a decent amount of downtime!
D1:
– Morning: Drive LV to Zion.
– Late Afternoon Hike: Angel's Landing to check out all the hype. The hype is real!
– Evening: Camp off of BLM Roads, watching a stunning sunset and realizing that we're in Utah!
D2:
– Morning: Zion Exploring! We ran the entire West Rim Trail in the morning.
– Afternoon: Drive towards Bryce Nat'l Park.
– Evening: Camp & relax off of BLM Roads near Red Canyon.
D3:
– Morning: Bryce! Waking up early, we had mostly solitude and gorgeous cool weather on Bryce's trails. We also managed to literally run into my cousins from the other side of the country by chance.
– Bryce, with golden morning light shining on the incredible hoodoos, was an absolutely incredible place to run. There were -a lot- of stops for photos, but these very-runnable trails were stunning, and it was made easy by going so early: no crowds!
– Afternoon:
– Drive to Escalante.
– Explored some trails near Fence Canyon/wandered around the desert for another 5-ish miles.
– Evening: Camp off of BLM roads in Escalante and take in the incredible astral show in the desert.
D4:
– Morning & Afternoon: Ran from Hurricane Wash TH and followed Cayote Gulch to the Escalante Confluence and back.
– This area was a stunning sensory overload with towering, glowing orange navajo sandstone walls and lush spring flora growing in the gulch. The out and back was pretty amazing, but we got a little fried from the final 6-mile death march through the desert along Hurricane Wash. Desert Running is brutal!
– Evening: Camp off of BLM roads again, with more beautiful stars.
D5:
– Morning: Drove through Capitol Reef (didn't stop to run/hike, mostly just drove through) and turned off towards Goblin Valley State Park, where we explored some of the slot canyons of the San Rafael Swell.
– We started going up Ding Canyon, but decided to turn around when we encountered a can't-tell-how-deep-it-is pool blocking our progress. We haven't been canyoneering before, and were spooked by not really knowing how to travel through this terrain and what may be ahead. Luckily, we (again literally) ran into Eric Lee, a fellow VFuel Athlete and all-around badass, and asked to tag along with him on his run up the canyon. Eric showed us how to travel through the canyons (lots of scrunbling, scrambling, chimneying, whooping and laughing!) We went up Ding and came down Dang – wading through pools and spidering through narrow canyon walls along the way.
– Evening: Eric joined us as we camped nearby along some awesome rock/mud formations at the edge of one of the mesas. We enjoyed a beautiful sunset, another incredible astral show, and great company.
D6:
– Morning: We bid Eric goodbye as he continued on towards Boulder, CO, and we went back towards the canyons. With newfound confidence, we ran through Little Wildhorse and Bell Canyons. Getting there early was a huge win – we didn't see anyone until we popped out of Bell Canyon, and had these very popular and super cool/narrow canyons all to ourselves.
– Late morning: Drove to Moab
– Afternoon: we checked out one of Eric's trail recommendations – the Jackson's MTB trail on the south side of the Colorado River. We put together a fun little loop of technical MTB trails that had really fun/runnable single track, awesome slick-rock running, and gorgeous views of the La Sals, Jackson's Gap, and distant arches and formations. It was a great "Welcome to Moab" trail.
– Evening: checked into our AirBnB and grabbed some food in town.
D7:
– After over 75 miles of running and scrambling the previous 6 days, we used this day to explore Arches.
– Morning: We took advantage of the park's construction hours to get to Delicate Arch before the crowds and were rewarded with over 15 minutes of having the entire arch and surrounding amphitheater to ourselves, in complete silence, just after sunrise. It was completely worth it and a really fun short AM run.
– Morning & Afternoon: We scrambled around the Fiery Furnace, and then explored the trails and arches on the northern side of the park. These arches/trails were the most people we'd seen all week.
– Evening: Hunting for decent nachos and beers in Moab (surprisingly challenging).
D8:
– Morning:
– We headed up to Castle Valley for the short run up to Castleton Tower. I wanted to revisit the tower I climbed a few years back and show Kaytlyn how epic desert towers are!
– We visited Dead Horse State Park, repacked our bags, passed our camping gear off to another adventure couple, and drove back to LV for an early AM flight home the next day.
Lessons Learned:
– Seattle-Las Vegas is a relatively short and inexpensive flight, with pretty high smash-n-grab-adventure-weekend potential.
– Renting your car through a hotel = less crowds, less hassle, and frequently better deals on daily rates than renting at the airport.
– Seriously stock up on your beer/alcohol in Nevada. Between the NV and UT border and Moab, there was sparsely any beer, and whatever you can find is 3.2% slightly-malty-tasting water. FWIW, cold 3.2% beer tastes REALLY good after frying in the desert for a few hours, but that doesn't make it any better objectively.
– Leave the glamping gear at home: we stopped by a Walmart on our way out of Las Vegas to pick up food for the week, and we also grabbed some cheap pillows, $5 camp chairs, and a cheap comforter. We knew we were planning on car-camping all week, but rather than bring these items from home, we spent relatively little at the start of the trip and saved ourselves from needing to make annoying packing/space/weight decisions (which would have also cost more as we'd have to check more luggage).
– Renting a car big enough to comfortably sleep in = huge win in southern Utah.
– With plenty of options to camp off of BLM roads (all free!), setting up home for the night was as simple as parking, cooking dinner and relaxing, and then sleeping in the back of the Ford Escape when it was time to get some Z's.
– This is where the pillows and comforter came into play – as they made our sleeping set up very comfy all week. Ford-BnB!
– Asking locals/doing some research/pre-downloading some google maps and Gaia roads will make selecting a good road camp spot easier, but we played it by ear every night and found it to be minimally stressful and awesome most days.
– In Zion: a half mile towards the West Rim trail past the Angel's Landing spur trail is solitude and equally beautiful views.
– Slot canyons are insanely fun, and Escalante National Monument as well as the San Rafael Swell were fun and stunning places to visit. I can't wait to return, and travel even further south to check out some other Gulches/Canyons we were recommended.
– Arches isn't really a explore-by-hiking/running type of place. If you're looking for a place to get solitude and trail miles, I wouldn't recommend going out of your way for it, especially with some awesome single track alternatives in Moab. That said, the arches are very cool, and it's worth a visit. Just set your expectations for a lot of driving and a lot of people.
– The trail running community continues to showcase how fun and welcoming it is – meeting Eric and going on an adventure with him was an awesome highlight of the trip. He also gave us confidence to do more exploring the next morning in terrain that was new and unfamiliar to us!
– When re-packing to head back to LV and fly home, find a busy parking lot with other potential adventuring groups – it's a great way to pay forward the car-camping gear we found. Another couple was happy to take our gear as they started their week of camping/exploring. Other alternatives of course are donating to the Salvation Army or other places in need.
Now that the wall of text is over with, below are some of my favorite shots from the trip. You can see the rest up on our Flickr.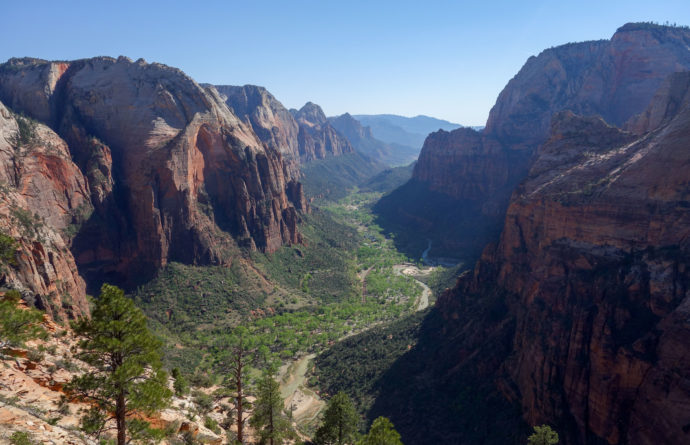 Classic Angel's Landing View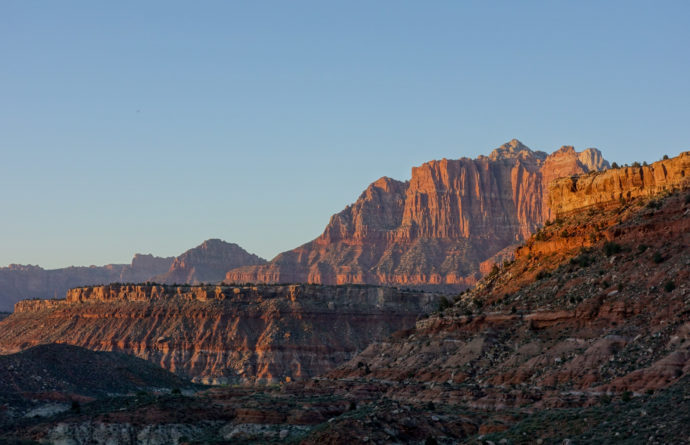 Sunset Outside of Zion on our first night in Utah. A great start.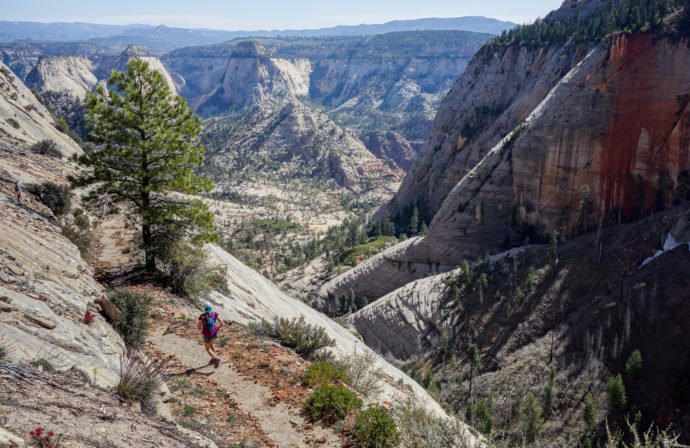 Running along the West Rim Trail. An early start and early-season conditions (snow on the road to the TH meant an extra two miles of running along the snow) meant that we had the trail to ourselves all morning. The trail itself was snow-free and in great condition.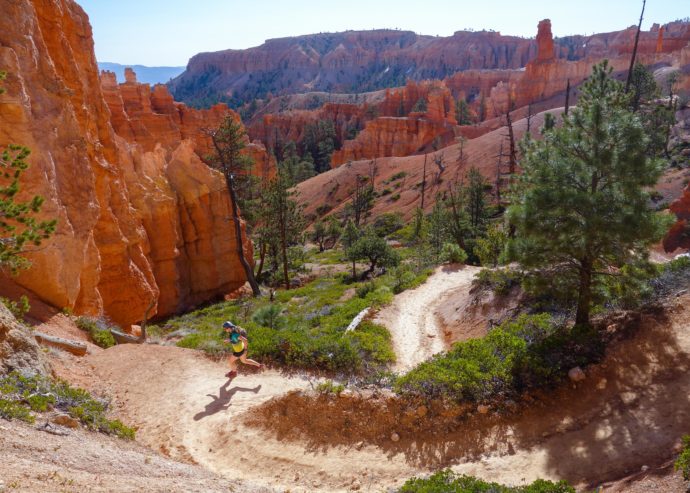 Kaytlyn chasing her shadow along empty cruiser trails in Bryce.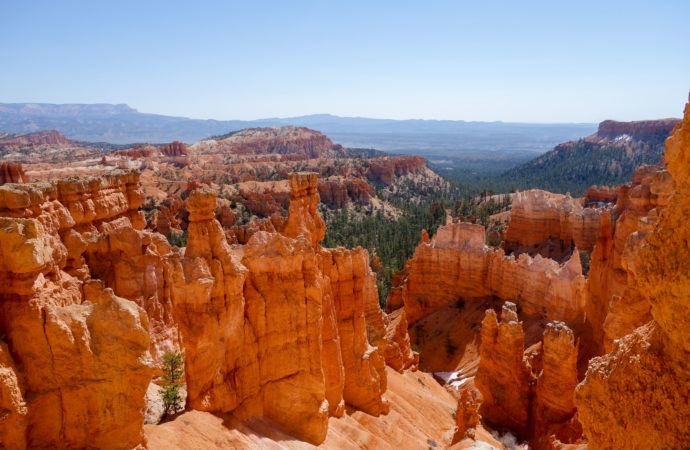 Bryce Canyon in the morning.
Light shows at night.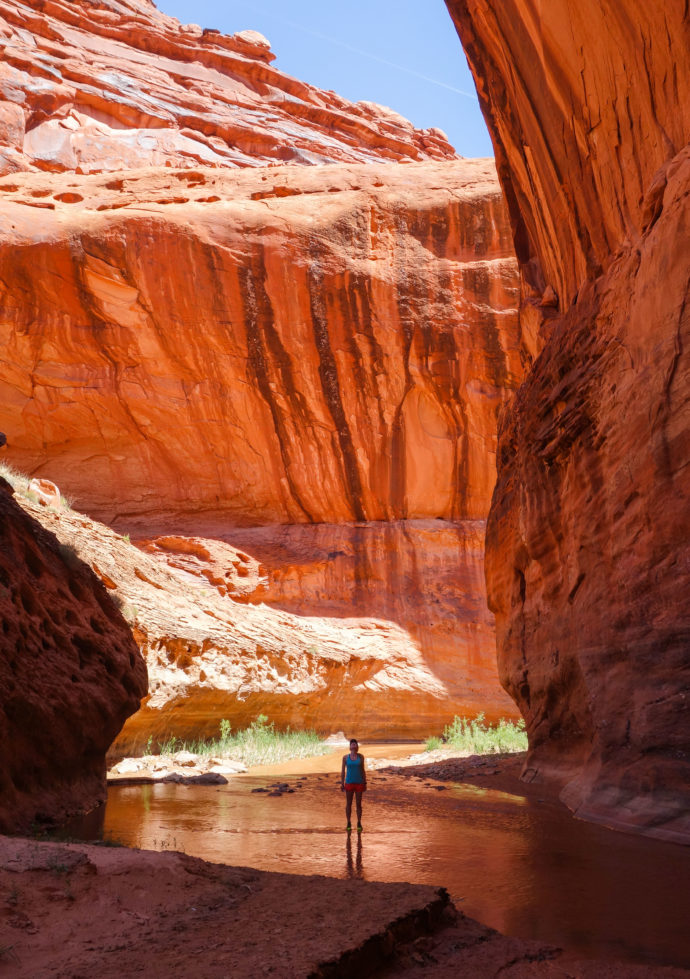 Cayote Gulch. Seriously.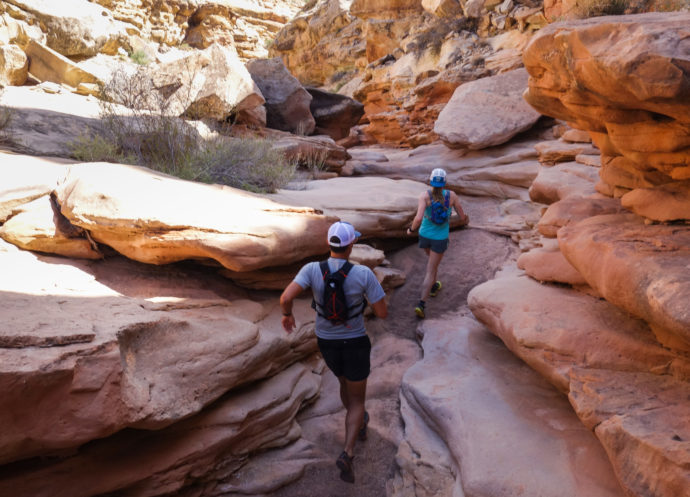 Eric and Kaytlyn cruising down Dang Canyon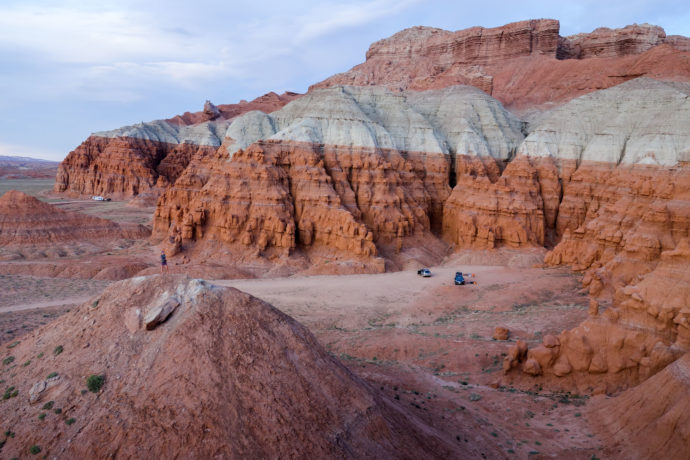 Our camp spot. Yep!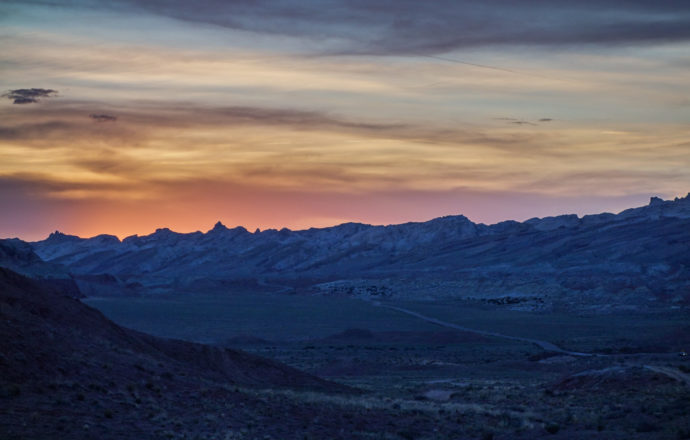 Sunset Views in San Rafael Swell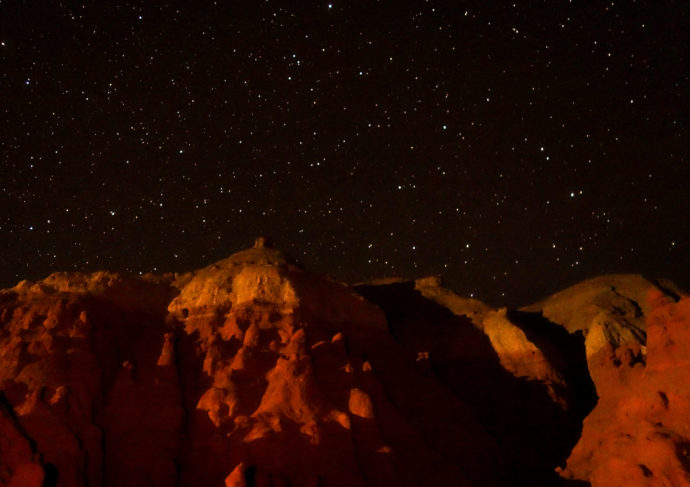 Mudstone lit up by our fire near camp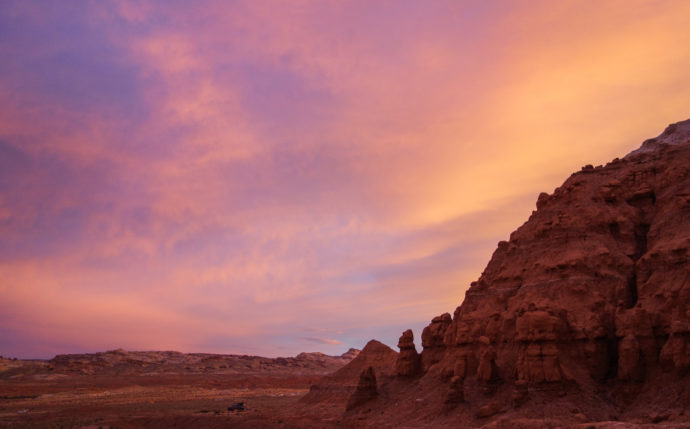 Great morning light!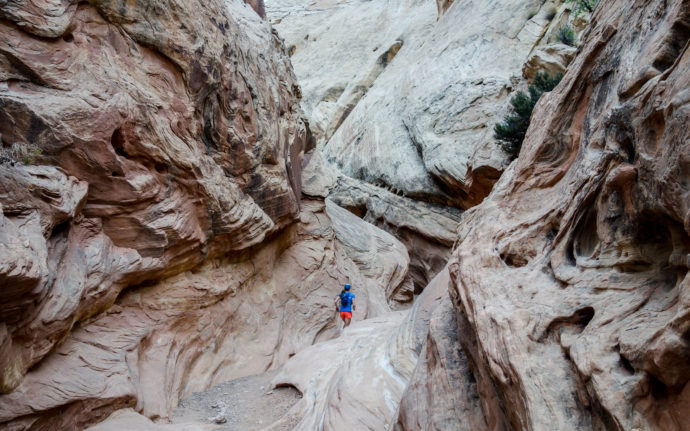 Little Wild Horse Canyon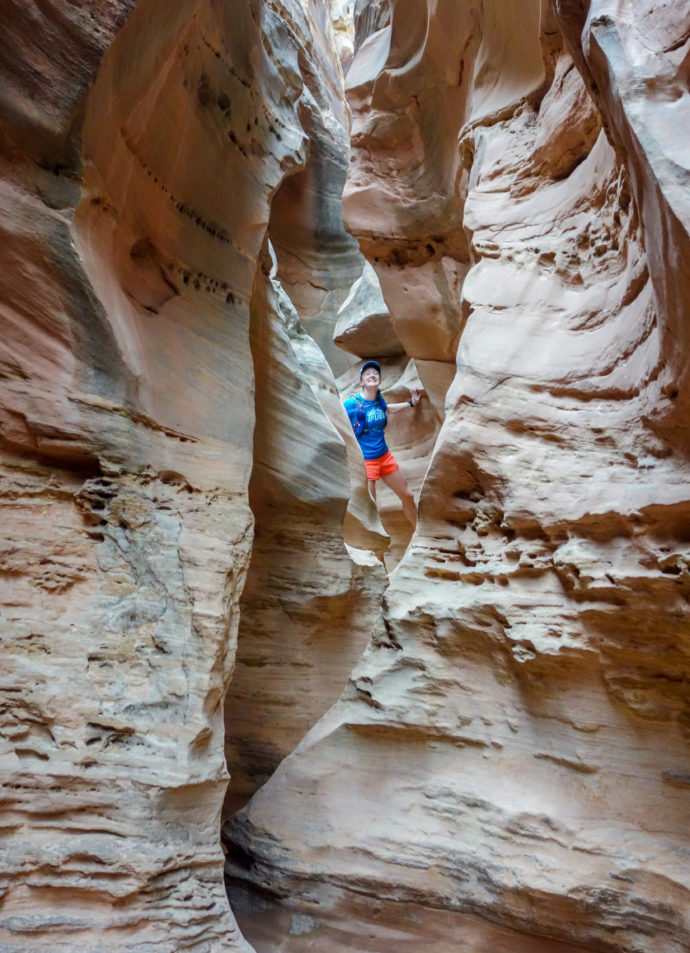 It was a lot of this. Super fun!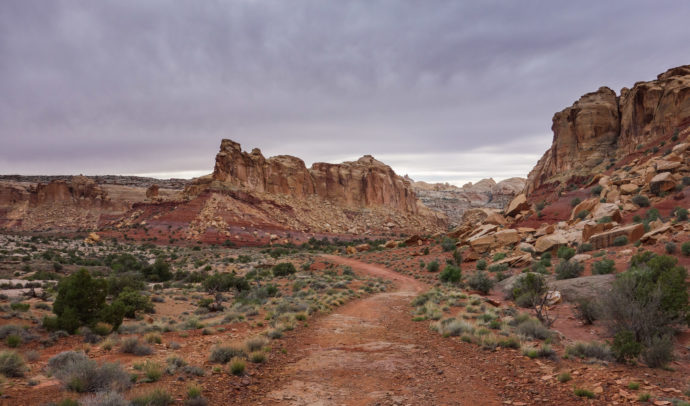 The other side of the canyon – I loved the contrast of the different colored rocks/cliffs/sediment.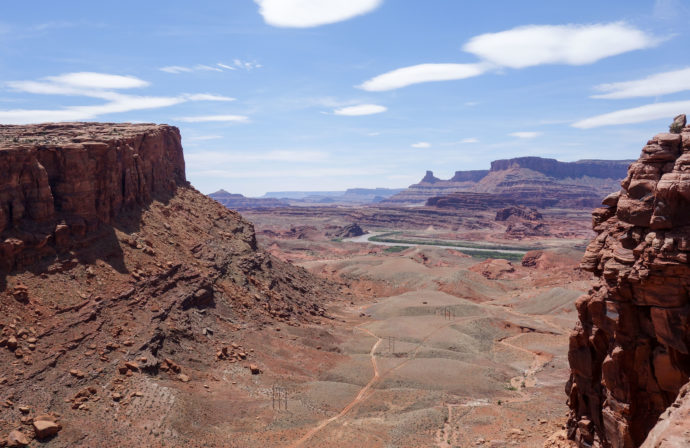 Views of Jackson's Gap right off the Jackson's Trail in Moab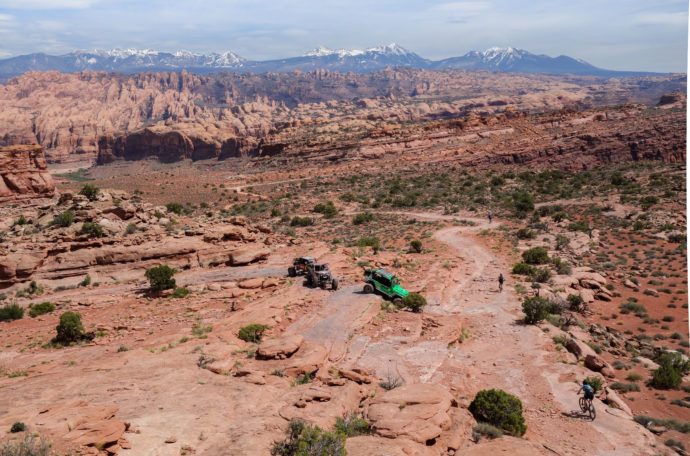 Moab Traffic Jam on top of Jackson's: Tricked-out Off-Roaders waiting for Mountain Bikers taken by Trail Runner who Climbed onto some rocks to take the photo.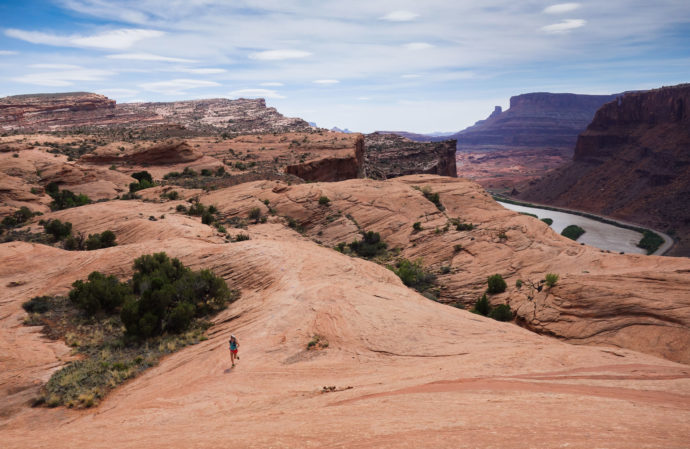 Slickrock Running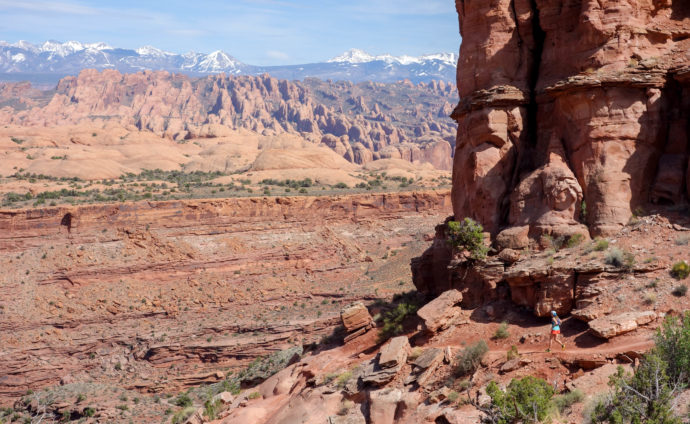 Views along the run – Kaytlyn cruising!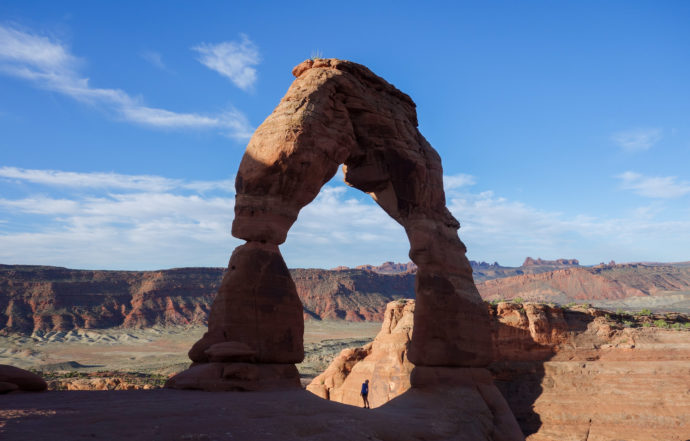 Not a staged shot. The benefits of beating the crowds: exploring this arch in full curiosity-mode.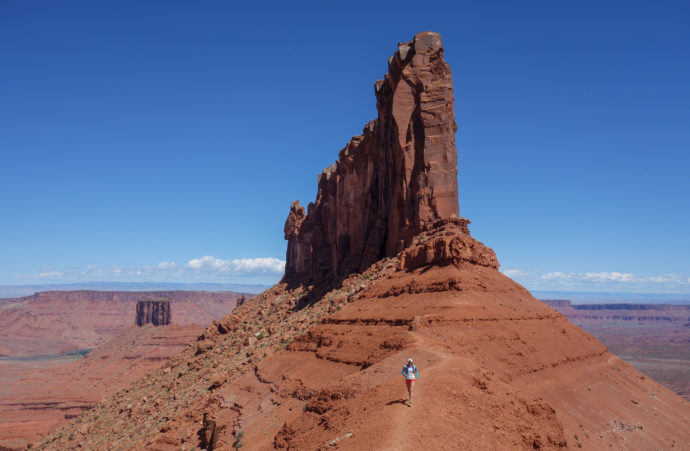 Kaytlyn running on the short ridge between the Rectory and Castleton.