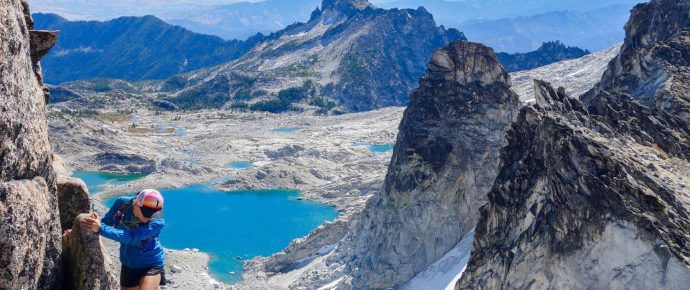 Enchantments Extravaganza
Trip planning at a brewery always results in epic and creative adventures.
We were sitting at Lantern Brewing on Thursday night, contemplating the stormy weekend forecast and brainstorming a Plan B. We'd been wanting to do a through-run of the Enchantments before the end of the season, but we were also hoping to get some climbing in over the weekend. Why not do both? And so, the idea for the "Enchantments Extravaganza" was born.
The Enchantments are an amazing playground in the Central Cascades, off Icicle Creek Road right outside of Leavenworth. The area is beautiful and the highly-coveted overnight permits are only available to those lucky enough to win the lottery each spring. For everyone else, the through-hike/run is a popular yet demanding alternative – 18 miles Trailhead-to-Trailhead with 4500 feet of gain, including a lot of boulder-hopping getting up and over Aasgard Pass. Last summer we spent a day exploring the Core Enchantments Zone with some scrambles and running (see TR here), but linking up the through-run with some scrambling/peak-bagging sounded like an epic day trip.
Our adventure began before we even left Seattle. Both of us were stuck at work late on Friday, so the late departure and terrible traffic meant we didn't get into the area until after dark. We stopped at every single campground on Icicle Creek Road – I've never seen it so busy! Maybe the stormy North/West Cascades pushed everyone to Leavenworth (that's exactly what we did). We were lucky enough to find one of the last campsites available at Chatter Creek Campground, which we had never been to before. We set up camp, ate, and went to sleep for an early wakeup.
Saturday morning, we left camp by 5:00am and drove to Snow Lakes TH. The plan was to hopefully find some other through-hikers doing a car-drop and hitch a ride over to Stuart Lake TH, with our back-up plan to do the route in reverse and worry about hitching a ride at the end of the day. The parking lot was surprisingly quiet, and just as we were about to give up, we saw two hikers come through the bushes and hop into a car. Ely ran over to ask them if we could get a ride – they agreed (somewhat reluctantly), and we hopped in. Success! When they turned around to introduce themselves, I was like "Hey, I know you guys!" It was Jeremy and Jason from the Moon Lab, one of the labs I collaborate with at UW! I think they were comforted in knowing that at least one of the two minimialist-crazy-looking-hitch hikers was actually a familiar face. Thanks for the ride, guys!
We started on the trail just before 6:00am, stopped along the way for some photos and chatting with fellow hikers at Colchuck Lake (4 miles in, ~2000 feet gain), and made it up Aasgard Pass by 9:00am. It was my first time going up the pass (and Ely's first time in daylight) – boulder-hopping on live rocks following carins that zig-zag up ~2000 feet in less than a mile was certainly an adventure.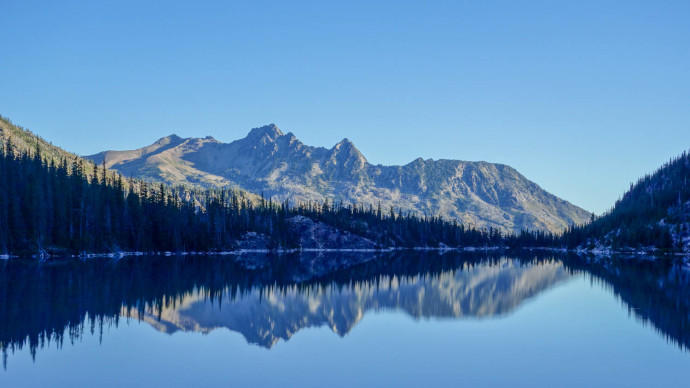 Colchuck Lake, looking South from the start of Aasgard Pass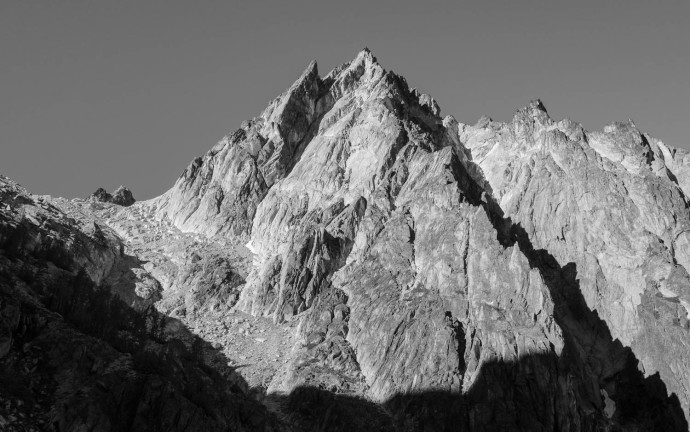 Dragontail Peak, as viewed from Aasgard Pass
After a quick snack break, we scouted a scramble route up along the boulder field of Dragontail Peak with easy access to the snowfield crossing. We weren't entirely sure what to expect with the snowfield that early in the morning, but fortunately the snow had softened up quickly by 10:00am. We were able to safely cross with some micro-spikes, a trekking pole (ready for self-arrest on the steep slope if needed), and kicking some serious steps.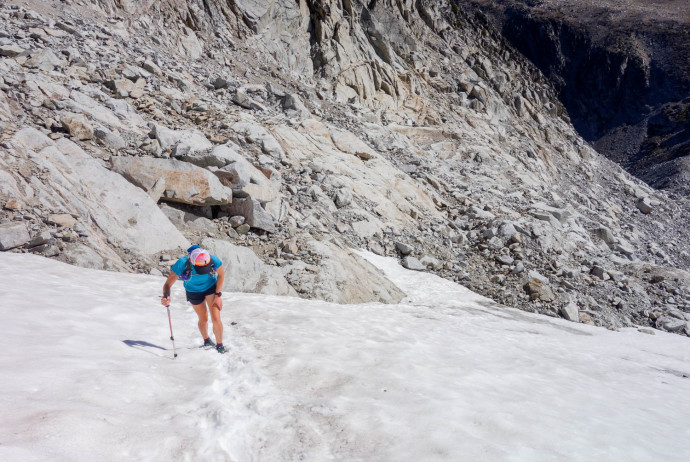 Following behind in Ely's carefully-kicked snow steps
Getting off the snowfield requires a quick class 4 move, but after that there's an easy-to-follow trail to the summit of Dragontail Peak. The views were incredible, and we were surprised to not see anyone else headed up the route.

Katy just climbing around on Dragontail. The drop-off is deceiving! The ridgeline we traversed is on the right, and Witch's Tower is the one casting a shadow on the snowfield. The main trail weaves through all the lakes in the Core Enchantments.
From the summit, we made our way down and began traversing the ridgeline, stopping along to scramble up any "peak" we could find. At this point, we had the whole day ahead of us, and the weather was still looking good. We scrambled to the SE summit of Dragontail Peak, an unnamed "summit" that was admittedly the sketchiest part for me (low 5th class slab for a short section), and Peak 8320 where we saw our first friendly mountain goat (I think he was surprised to see us up there). By this point we had been making Baaaaaad goat jokes for a few hours already, so the cute little guy only encouraged us as we headed baaaaack along the ridge.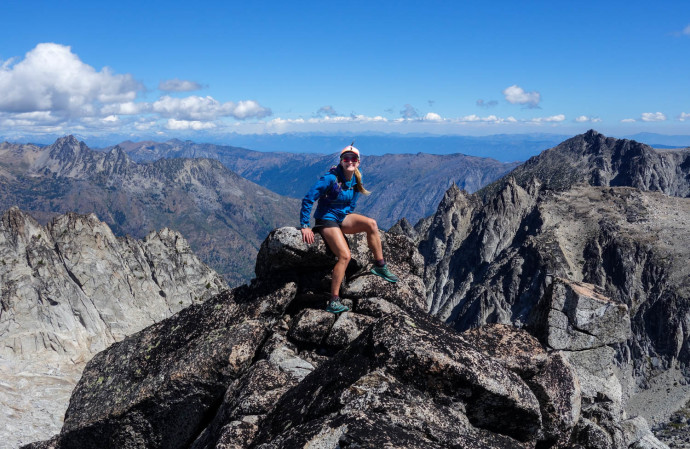 Relieved to be on top of the sketchy un-named mini-peak.
We spent some time scoping out the easiest way to get down to Witch's Tower, and located what we thought looked like the best descent – a gully with most of the snow melted out – to get there we traversed more of the ridgeline towards Boola Boola Buttress, wrapped around and back to the get to the start of that gully. After a careful descent, there was a bunch more boulder hopping to get to Witch's Tower. This is a fun scramble – and I kept thinking about how much more comfortable I felt on the rock compared to last year's scramble. I guess all that rock climbing is paying off! After taking in more incredible views, our tired-selves debated whether or not we wanted to go all the way back over the boulder field to get to our favorite self-named "Dick Peak" and Little Annapurna. After half an avacado and a Gu, we decided it was a good idea.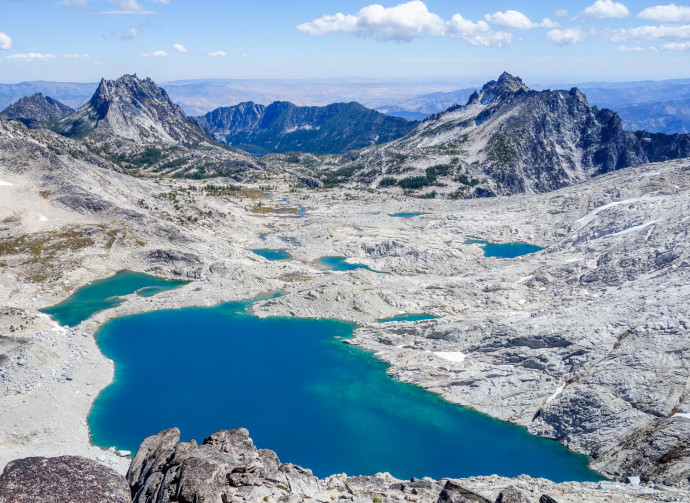 Looking down on the Enchantment Lakes from Witch's Tower. It's hard to be tired when you've got views like this all day.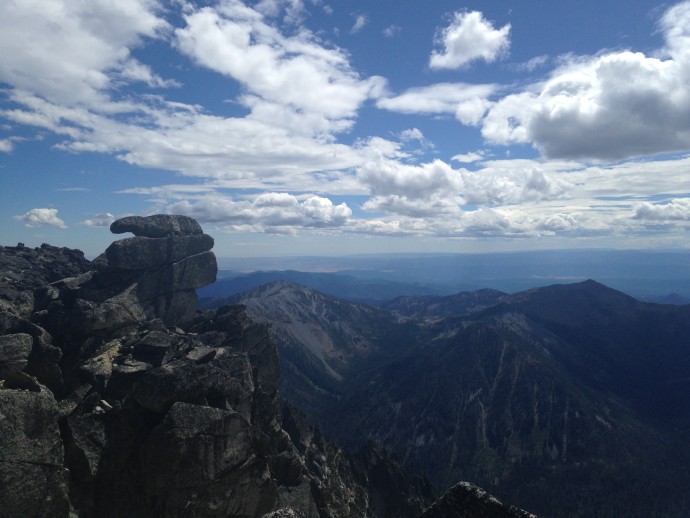 Dick Peak" – Ely and I named this one ourselves 🙂
Dick Peak and Little Annapurna was a lot of fun, because there are some run-able sections between the two and even a trail up Little A. Again, we had the whole area to ourselves – we had seen a few people up there earlier in the day but everyone was gone by the time we made it over there. At this point, storm clouds had been moving towards us but seemed to keep skirting around the Enchantments. It was 2:00pm, so after 4 hours galavanting around on the ridgeline above 8000 feet we decided to cut back to the lakes and get on some trails (and out of the exposed terrain!).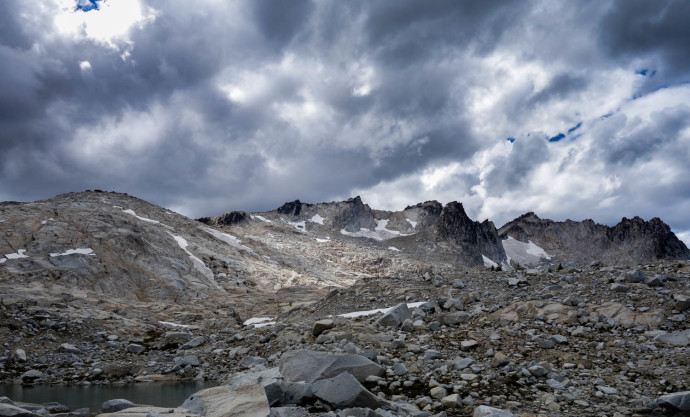 Looking back on the ridgeline we had been exploring all morning from below in the lakes area. For reference, Witch's Tower is the darkest peak in center right, slightly ahead of the rest of the ridge. Storm clouds were moving in, and we wanted to get off of the exposed terrain.
Running through the Core Enchantments was beautiful, tiring, and exactly what I wanted to be doing. It only rained on us for a minute or two, and the stormy skies added to the already dramatic-looking landscape. It took us a few hours to get back down to the car – my knee was hurting (still recovering from White River 50), Ely was dealing with some bad blisters, and honestly we weren't in a rush. We got back to our car just before 7:00pm.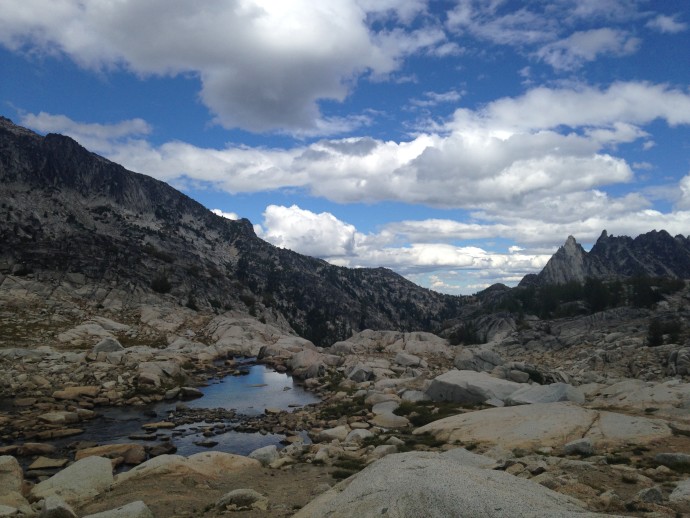 Enchanting, isn't it? The trail weaves between these alpine lakes.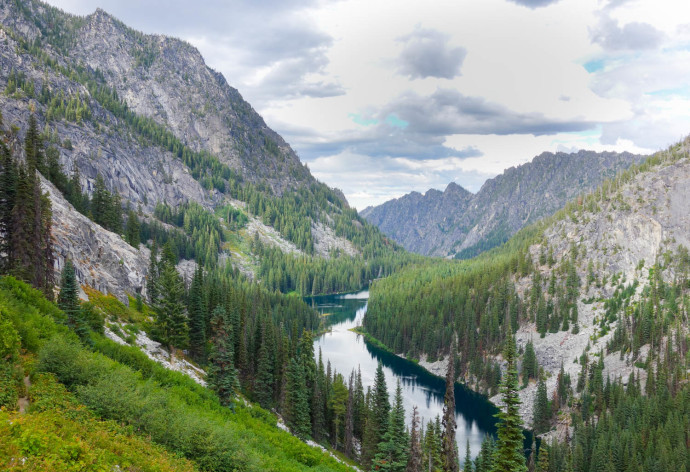 Nada Lake, along our descent towards Snow Lake TH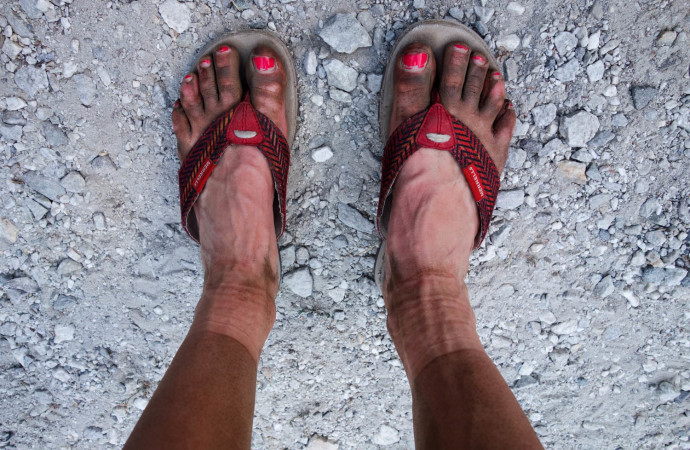 Dusty trails. The right color polish can really make all the difference at the end of a long run.
Back at the campsite, we cracked open a beer and devoured all the food in sight. Shortly after, two cars rolled up and paused in front of our site, and a few people jump out (it was dark). It was Akiko, Hiroshi, Kyohei and friends – also from my lab at UW! They had been climbing all day and were just as surprised to see us as we were them. I officially saw more coworkers than mountain goats during the Enchantments Extravaganza.
Total stats:
22 miles, ~6500 feet gain (running, boulder-hopping, scrambling/climbing), ~13 hrs RT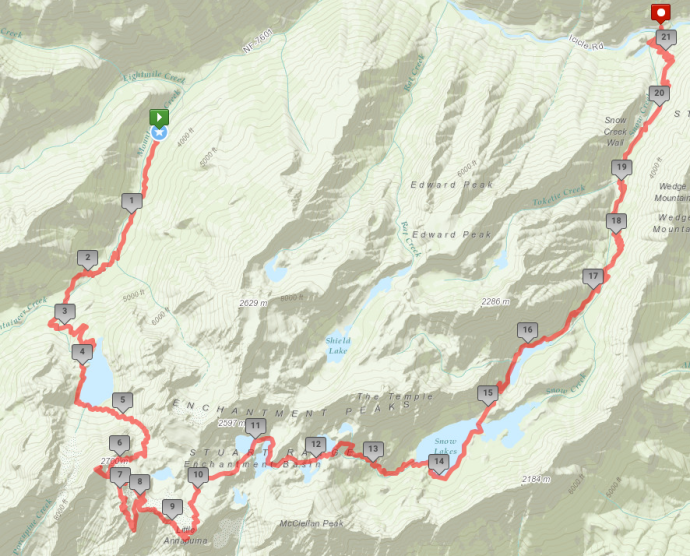 Our route – will get GPX files soon