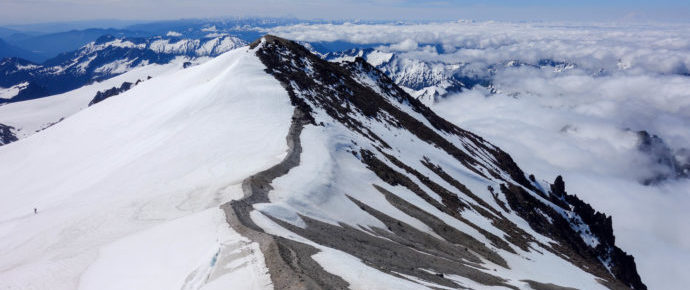 Glacier Peak & Mount Rainier Double
This tops the list for the best weekend we've had, probably ever. Except for maybe when we got married. Eh, no, I think this still might have been better.
Since we've moved to the PNW, we've kept with the tradition of climbing a volcano over Fourth of July Weekend. Additionally, this year we really wanted to tag all 5 WA volcanoes, and we only had two left to cross off in 2016: Mt Rainier (we'd been up a few times previously), and Glacier Peak (the elusive, hard-to-get-to, never-been-to-the-summit peak). In early spring we reserved the long weekend for a Glacier Peak attempt; it's a long approach (~20 miles in), and most trip reports take a multi-day push. However, as the weekend moved closer and we were running more and more springtime miles, we started wondering if we could squeeze our 3-day Glacier attempt into a day. Or 1.5 days. Why? Mostly for our non-sensical desire to suffer a bit, move fast-and-light, and…well…then we could try to tag Rainier in the same weekend! It was a crazy idea, but it was just the sort of thing that got us giddy and excited. We didn't know if a Glacier Peak/Mt Rainier double was possible for us, but we were ready to make an attempt!
We left Seattle after work on Friday, and drove into Glacier Peak Wilderness. By 6 pm we were on the trail, and we took advantage of a few hours of daylight to knock out some of the approach. When night fell (and a nasty rain/windstorm moved in) we pitched a tent, cooked up some MountainHouse, and squeezed ourselves into our one single sleeping bag with no sleeping pad wearing all of our layers. It's really not as bad as it sounds. Okay, it's not great, but we've gotten used to it 🙂
The next morning, we woke up early to a whiteout and freezing rain. I looked outside, and decided it was best to ditch our summit bid and stay in the tent. Ely fortunately convinced me that there was a good chance it'd clear up, or at least be clear up high, so we packed up and headed out. Sure enough, the higher we went, the clearer it got, and by the time we were nearing the base the weather had started to turn in our favor.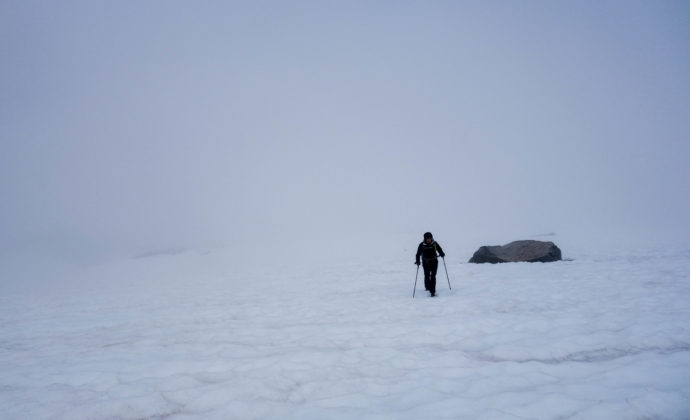 Inside the ping pong ball, no sight of Glacier Peak, and wishing I was still in the tent.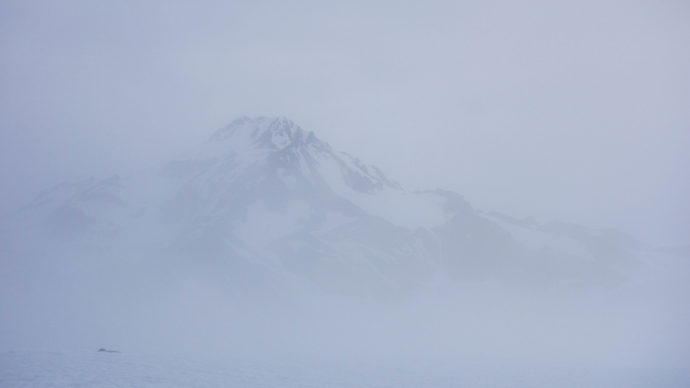 Wait…there she is!!!!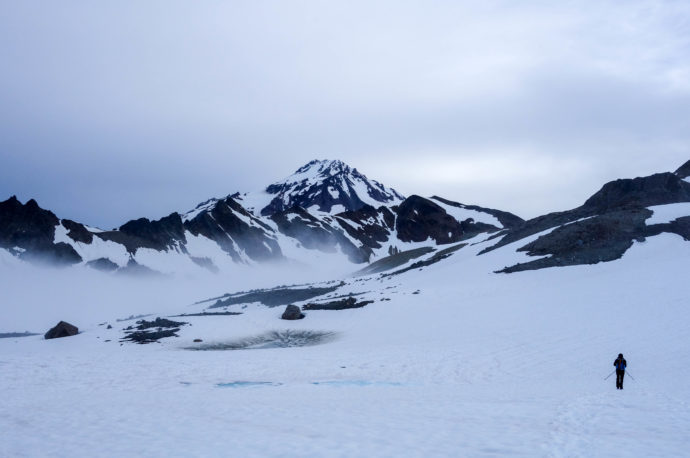 So close…yet so far away. Finally getting a good view of our destination once we reached Glacier Meadows.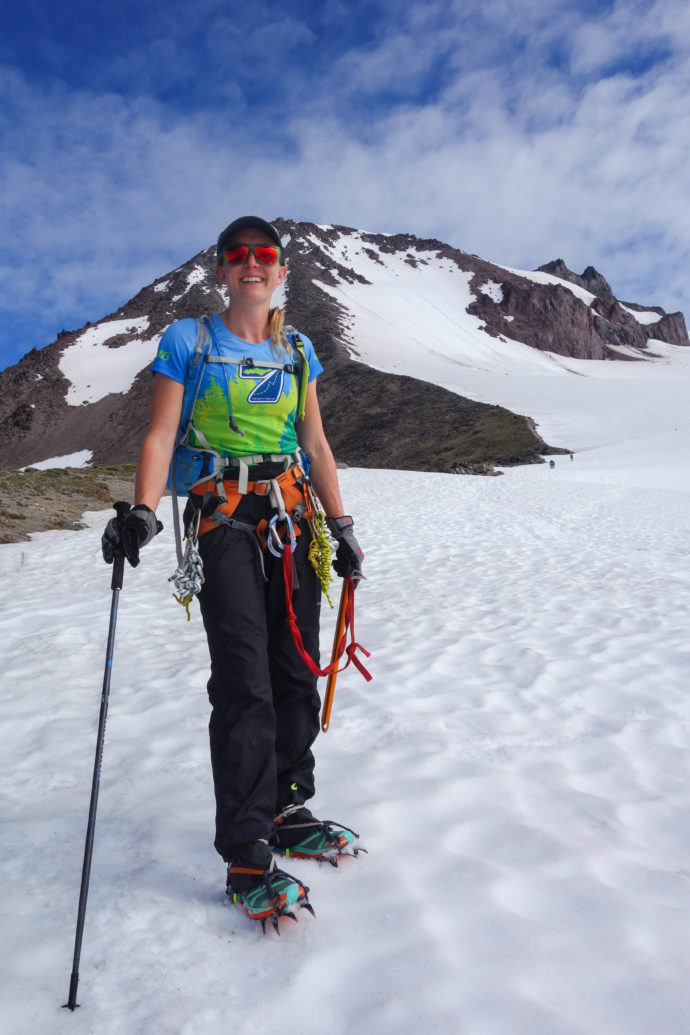 Making Seven Hills proud…full on Jerry of the Day right there.
Fastpacking onto a volcano means wearing crampons on your trail runners, lightweight glacier gear, and weird looks from any other groups you pass. We met two groups of climbers on our way up to the summit – one of them is at my right in this photo. When we cruised past them, they said "Hey, you guys must know Stuke, huh?" 🙂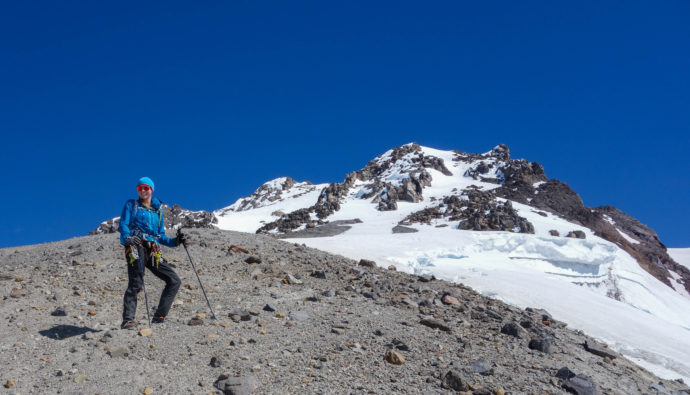 Moving up the ridge.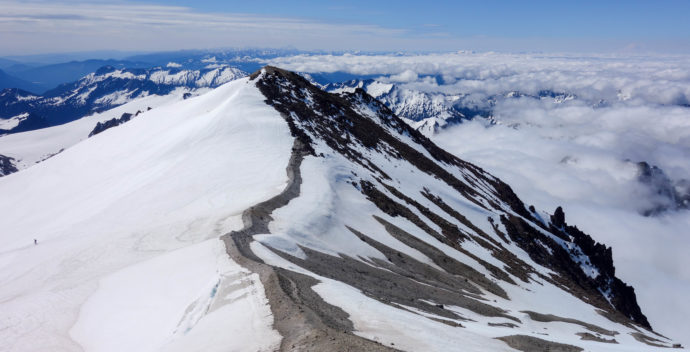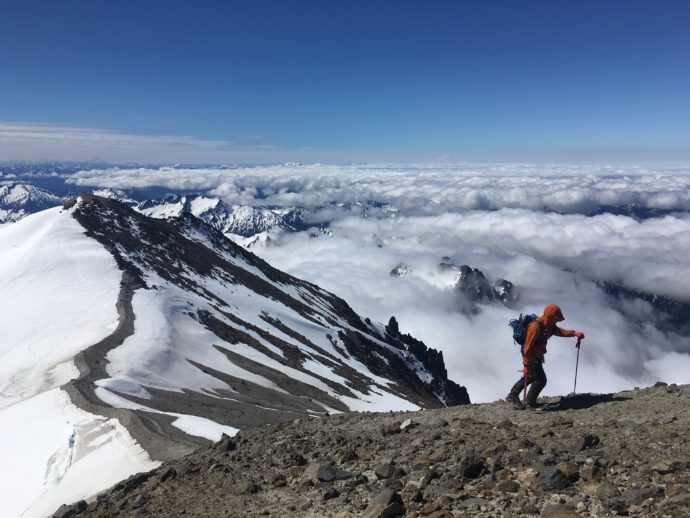 Heading up the ridgeline towards the summit.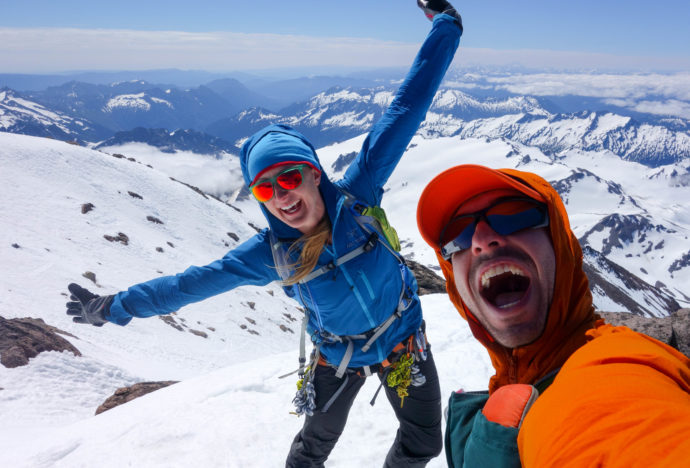 Bucket list volcano summit! Finally made it up Glacier Peak!!! We were obviously very excited.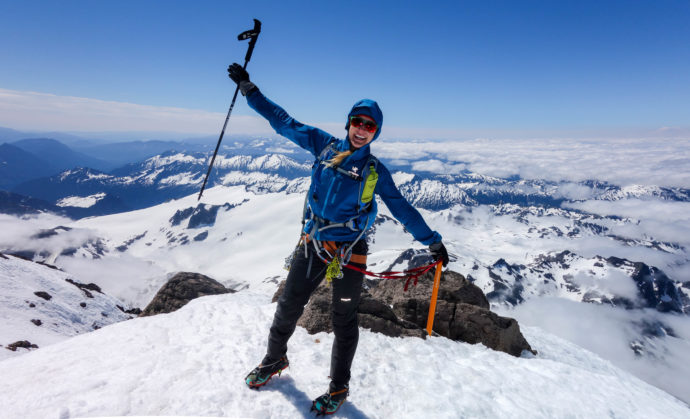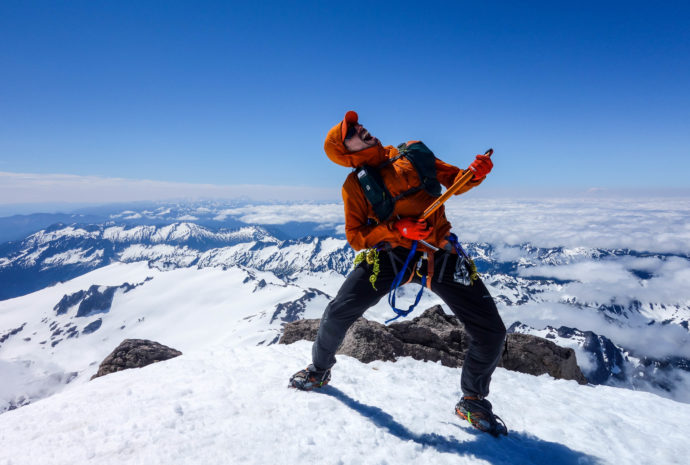 Heading back down, the weather continued to clear up and showed us all the views we had missed on our way up!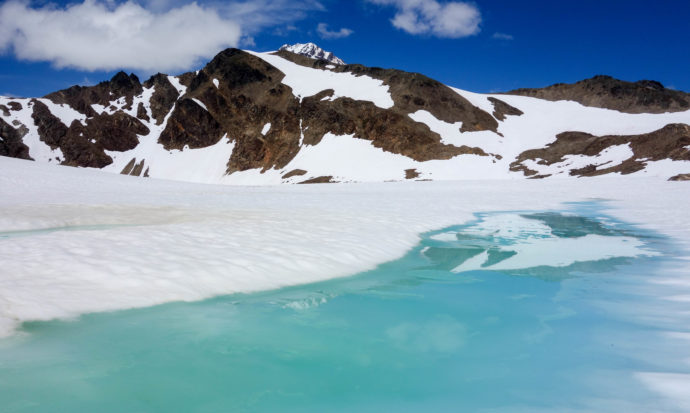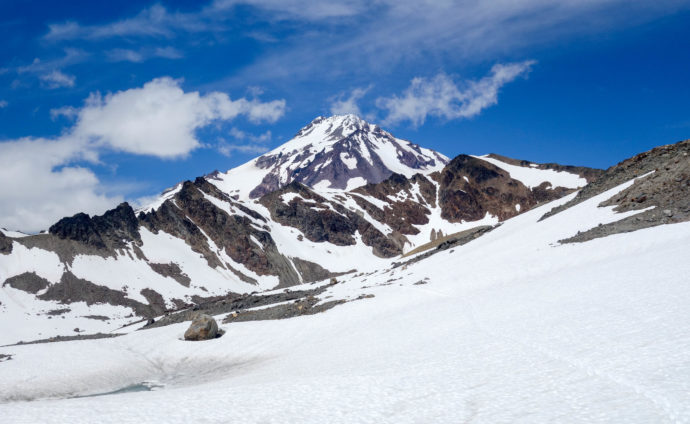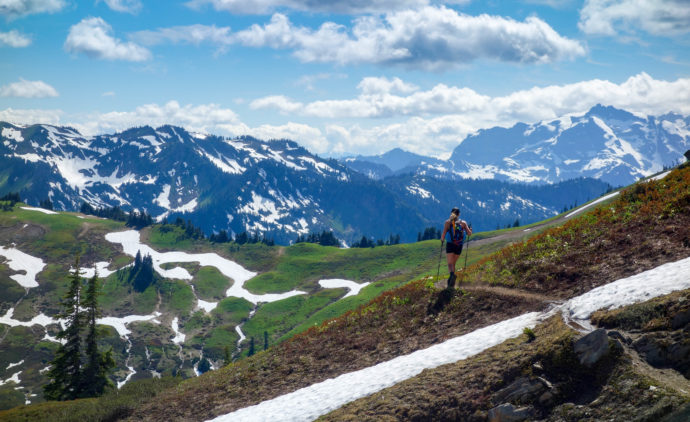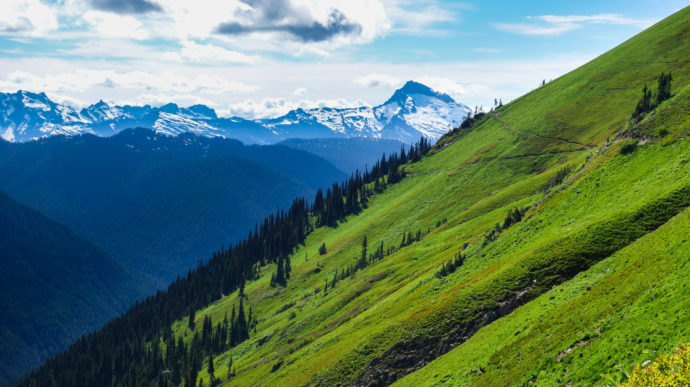 We ran the 20ish miles back to the trailhead, and immediately passed out at the car. We needed our beauty sleep for Volcano #2!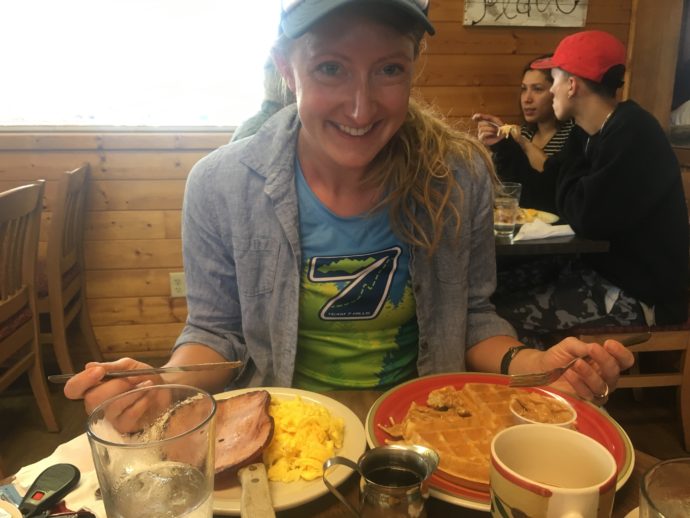 The next morning (Sunday), we made two detour stops on the way to Mt. Rainier – one for a massive breakfast, and the other for Cold Stone.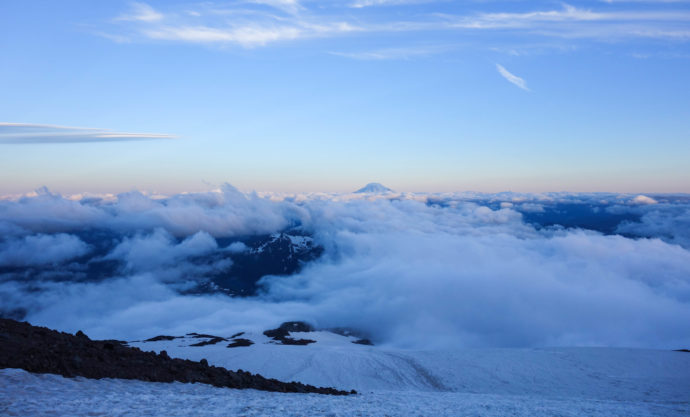 After we parked at Paradise, we spent an hour getting our gear together, then tried to nap for an hour or so before heading up the Muir snowfield. Then, up we went!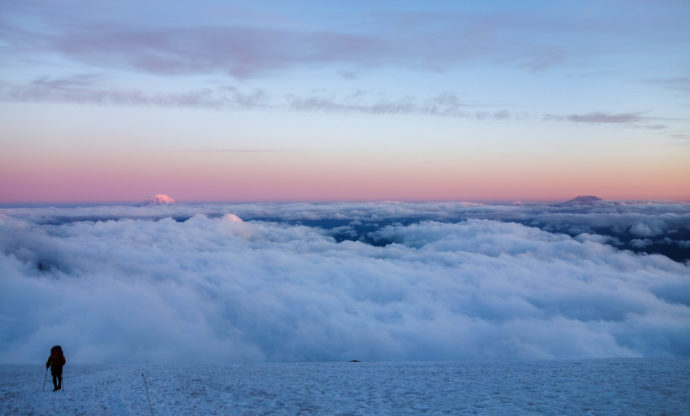 We should have napped a bit longer at the car, because we started up Muir a bit too early. We made it to Camp Muir not long after sunset, so we hung out for awhile in the shelter to get the timing right for a sunrise summit. This was the first time we've been up without heavy splitboards and overnight gear, so we were a bit speedier than expected!
The ascent was dark, cold, and ridiculously windy. Being just the two of us and moving quickly, we passed the other groups and ended up leading the way up. There was more route-finding involved than previous times we've been on the DC route, due to recent re-routing and crevasses opening up with the warm weather. Either way, we were focused and thus didn't take any photos until we got to the summit!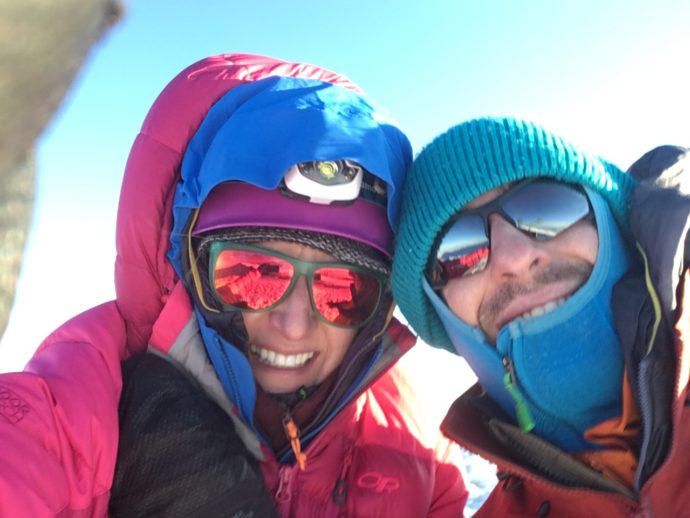 Two Gerbins on the summit!!! It was SO WINDY and freezing. Hopefully that helps explain Ely's fashion in this photo. 😉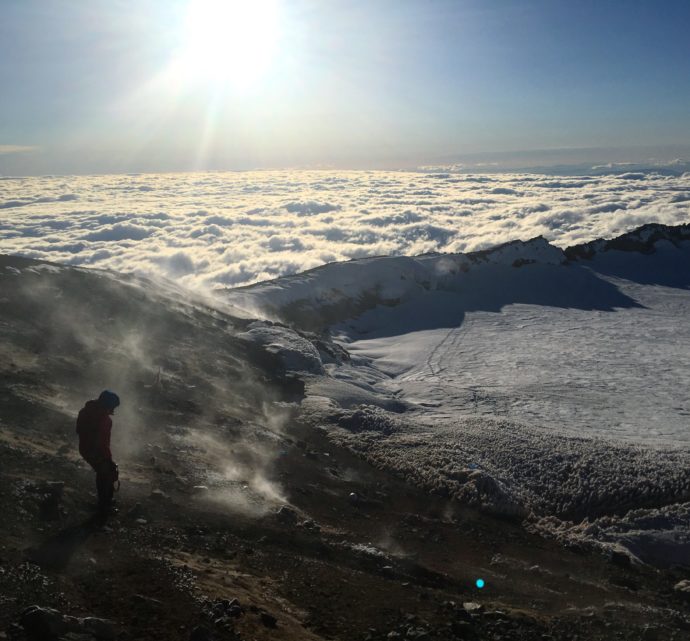 Descending back into the summit crater.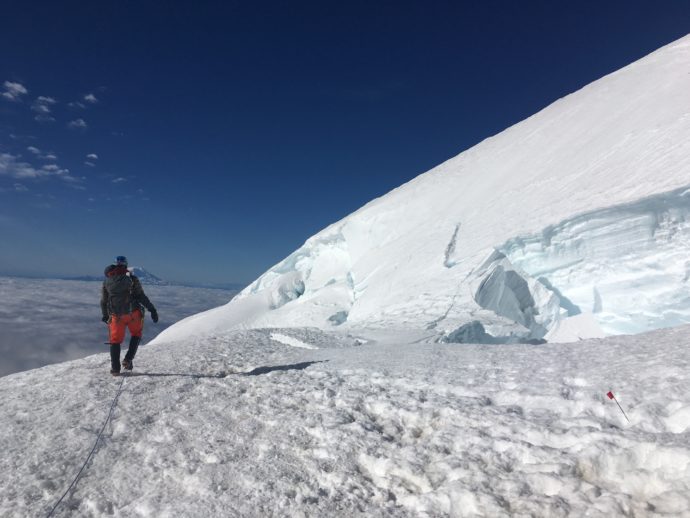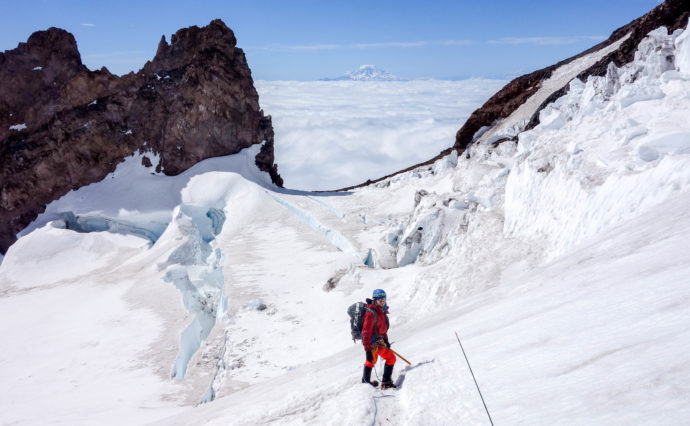 Best rope-mate ever.
Two volcanoes done, completing our 2016 WA volcano tour, and we even made it back into Seattle in time for beers and fireworks!!