Orcas 50k
First race of 2017 done! In short, it was a stellar day on sloppy, challenging trails.
After a stressful 3.5-hr drive from Seattle to Anacortes after work on Friday, we arrived to the ferry terminal at 7:07, barely making it onto the 7:10 ferry. Fortunately we found some friends as soon as we got on, and spent the ferry ride swapping traffic horror stories over beer.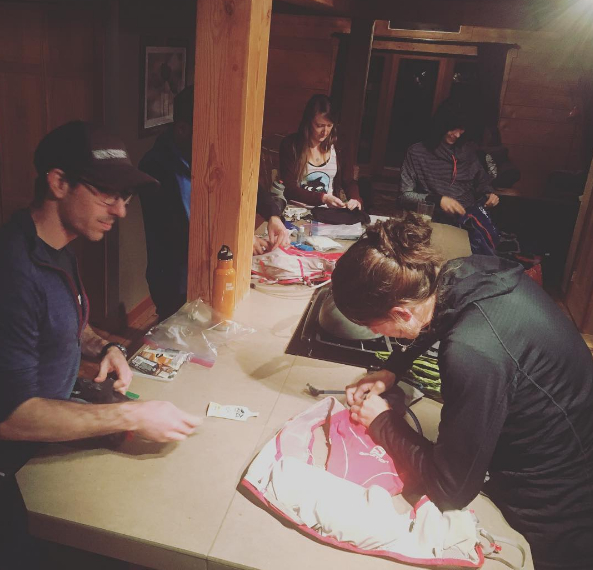 Group race prep in the cabin! Photo: Shamai Larsen
Being the first race of 2017, my main goal was to use Orcas as a fitness check for the upcoming season. Ely and I both took most of the fall off of running and training due to work demands/injury (Ely), thesis-ing (me), and needing some solid recovery time, so we were excited to have Orcas on the calendar. This also made it easier to motivate ourselves to get out the door during the dark and wet PNW winter for early morning runs. We both had a second goal of PRing — we ran Orcas last year but weren't well-trained, so this seemed like a tangible goal (of course, we set this goal before learning that Mt Constitution got inches of snow the day before the race!). I also knew that there was a stacked field of solid ladies running, many of whom I've run with in previous races. I was looking forward to seeing them again and also running against some competitive runners!
At the start line, I found Scarlett (who I spent 20ish miles of Squamish 50M with), Tara (who I ran with for the second half of Gorge 100k), and fellow 7Hills runner Alicia. We took off up the road for the first big climb – 3.5 miles of paved switchbacks for ~1500′ of climbing. This road section seemed less painful than last year, but starting a race like that is tough. I was happy to finally turn off onto the trails. I started off following behind Alicia and Scarlett, but Holland (last year's winner) quickly caught us, and Tara was just behind. We spent the next 10ish miles chatting and keeping a consistent pace, pushing each other down the snowy/muddy/slushy trails. It was so much fun!
Maybe this is in my head, but in my mind we were a tight pack of speedy ladies barreling down the trail, competing against each other but still making jokes and laughing every time someone got smacked in the face with an ice branch (this happened to me a lot). I have often seen the lead men run like this, but I've never really done this before in a race. It was an amazing race experience, and I think it probably helped us all run a bit faster than expected given the sloppy trail conditions.
As the race went on we split up a bit, but were all still within earshot. At one point I was up ahead with Holland, but she rolled her ankle and hung back a bit (hope you heal up quick!). This left me in front of the rest of the lady speedsters (or so I thought), but I knew it was early in the race and figured they'd catch back up soon. Sure enough, as I was struggling to keep moving forward up Powerline at mile 21 (aka the Powerline Death Trail), I saw Scarlett again coming up behind me, and I could hear Alicia and Tara not far behind her. This motivated me to keep my pace up as best as I could. I had also just learned that there was another girl a few minutes ahead of me. I think my response to the volunteer who told me this was "Really? There's someone else up there?" If we had known earlier, it probably would have changed our group pace a bit at the beginning, but who knows if that would have been for the better.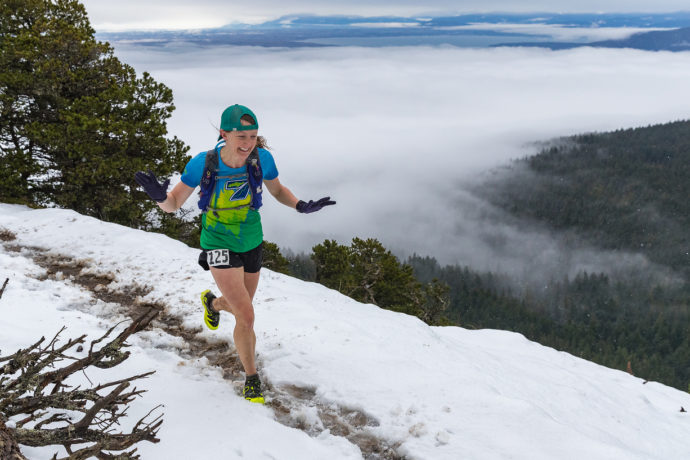 Descending from Mt Constitution! Photo from Glen Tachiyama – check out his photos here!
Last year, the short descent off of Powerline was my favorite section of trail: typical PNW mossy forest trail, with winding switchbacks.  But this year it was a snowy mess, which was still pretty, but was difficult to open up and run fast on. On the final climb up to Mt Constitution, I finally caught sight of the lead lady, Rachel, and kept a steady pace just behind her. I was hoping to open up and really push my pace in the final 5ish miles of descent coming off of the summit, but the trails were sloppy and technical, and Rachel was super strong! I crossed the finish line less than 2 minutes behind in 5:31:29 — which put me at 2nd place with a whopping 11 second PR!! I later learned from Team Rainshadow that the course was ~1 mile longer than last year, so considering the trail conditions I'll count this as a solid PR –although, it's close enough to fall within the margin of timing error :). Ely on the other hand PR'd by over 3 minutes, finishing strong in 5:51 and breaking top 20 overall!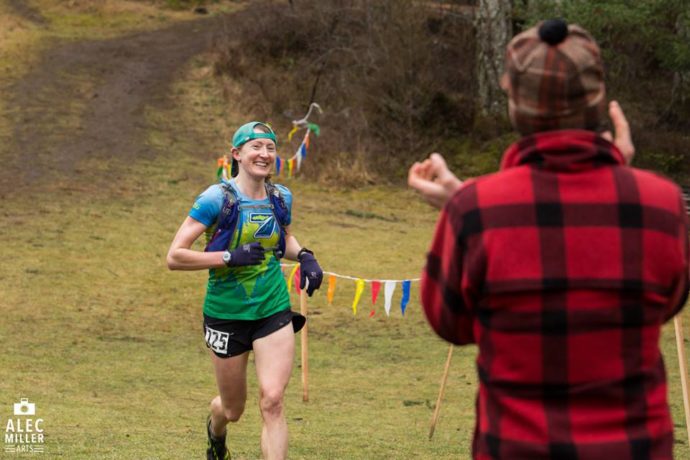 Happy to see James at the finish! 2nd Place Female! Photo: Alec Miller – check out his work here!
The rest of the night was spent enjoying the post-race festivities, which are always fantastic at Rainshadow Races.  Thanks to everyone at Team Rainshadow, to all the volunteers and spectators for braving the cold rainy/snowy weather, to the Pine Hearts for awesome post-race music, and to all the new and old friends we spent the weekend with. Special shoutout to our friend Marie, who dominated Orcas 50k as her first 50k! And thanks to Seven Hills Running Shop for hooking me up with some stellar shoes and gear for the race 🙂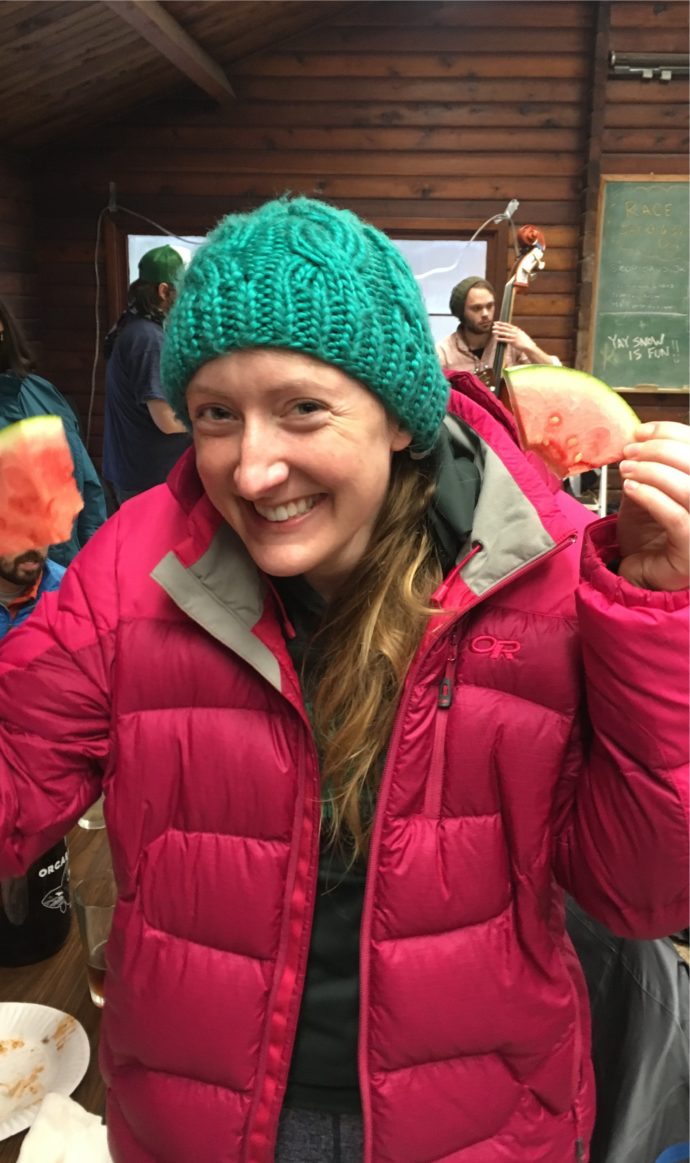 If you eat enough watermelon, you start to resemble one. 
My gear:
Shoes: Scott SuperTrac RC shoes (these were awesome!)
Hydration: UltrAspire Handheld (1st half) and Ultimate Direction Jenny Vest (2nd half)
Nutrition: VFuel + Gu gels + S!Caps
Top: 7Hills custom Pearl Izumi shirt + Salomon Elevate long sleeve + Salomon gloves
Bottom: Patagonia Strider shorts + Smartwool PhD mid-weight run socks
North Face trucker hat
Garmin Forerunner 220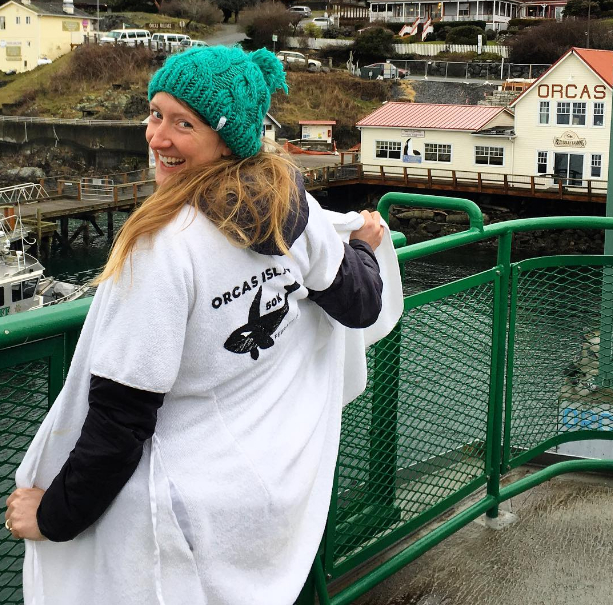 The best Orcas swag ever – bathrobe from the thrift shop race pile. Perfect for the hot tub (and the ferry!). 

Also – Ely's Ultra Quick Race Report, for anyone interested or still reading:
I started running. (You have to start somewhere, right?)
I probably went out too fast, chasing Kaytlyn and the other fun folks in their group.
Cramps started at mile 13. Ow! Ow! Ow! Relax.. ok. phew… Ow! Ow! Relax… rinse repeat for 17 more miles.
At ~mile 14, I got into a disagreement with a Honey Stinger Waffle wrapper. It ended with my handheld water bottle flying towards a creek and a semi-cramped-up psuedo dive to save my hydration options. Handheld secured. Waffle devoured. I won the argument.
Ditched my long sleeve at mile 20. Was still too hot going up Powerline. Then freezing above it. Can't get the temperature right. Gloves were wet. Oh well. Still laughing. I think?
Glen was up on Constitution. That's a serious commitment to taking pictures of sweaty, snotty, snowy, muddy, crazies in running shoes. Thanks Glen! You rule!
Tried to chase the guy who passed me at ~mile 26. Got within like ~50 feet, and then he was gone. Way to get it done, guy-from-Bellingham!
I stopped running.
Beer and Pizza. (you have to finish somewhere).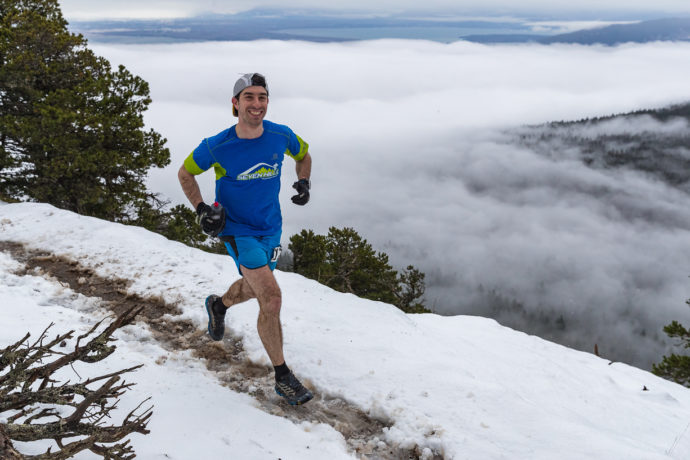 Ely looking strong on top of Constitution. Photo: Glen Tachiyama.