Mt Rainier – DC Route – June 2015
Ever since last year's unsuccessful summit attempt on Mount Rainier, we've had our eye on Washington's tallest, and arguably most famous mountain.
This spring we started brewing plans again. After numerous doodle polls, availability changes, adjustments for our ridiculously low-snow winter, we finally nailed down a crew and timeline: Brad, Kyle, Jarrod, Kaytlyn, and I planned to go up the weekend of June 20th, weather conditions permitting.
With last year's lessons-learned in mind, we treated this year differently.
Long email threads detailed and scrutinized our trip plans, timelines, packing lists, etc. We also met up as a group to practice crevasse-rescue a week before the trip.
Additionally, two things were different this year that I directly attribute to our success:

We were all in various forms of awesome shape.
We decided to climb over the course of three days, vs. two. (Ascent to Muir, rest day, summit bid + descent)
Brad and Kyle planned to arrive before us, so the plan was that they'd get the permits and we'd meet them at Camp Muir, where we were staying the first night.
Katy and I picked up Jarrod and were on the road by noon on Friday. We managed to avoid the worst of the traffic, and were unloading our gear at the Paradise parking lot by about 3:45.
At the parking lot, Katy and I were at a decision point: to bring the Splitboards or not.
The rest of the group was just hiking, but we really wanted to get a few more June turns in. We decided it would make both the ascent and descent faster, so we opted to bring them.
Looking up at Rainier, we could see that snow wouldn't start until above Panarama Point, some 4 miles and 1,500′ above us. That decision would ultimately turn the trip into a Suffer-Sandwhich for me. Details on that below.
The rest of the crew didn't have the same issues, as they left their ski gear at home.
—
The Suffer-Sandwich.
Outer-Suffer-Sandwich-Layer-1: "We're going snowboarding."
The ascent to Muir made up the first part of the Suffer-Sandwich. Our splitboards are heavy as is, but with overnight gear, glacier travel & safety gear, plus food/gas for two days, our packs were feeling hefty.
We slogged to the top of Pan Point and then some — snow wouldn't start until past Pebble Creek, at about 7200′.
We finally reached continuous snow and donned our splits, only to realize what we were getting into: the entire snowfield was heavily sun-cupped. It made for inefficient and frustrating skinning. At one point we even contemplated stashing the splits in the rocks somewhere, but we were hopeful for a nice and soft descent later on (this didn't happen, see below). We didn't want to skin over the bootpack (unspoken etiquette?), so we slowly but surely, with a lot of grimacing, made our way over the bumpy and spiky surface. At the upper snowfield especially, the going was mentally tough, with ridiculous side stepping and lots of soul-searching discussion about whether bringing our boards was the right call.

Katy skinning up Muir Snowfield. The iced-over suncups made for less-than-stellar traveling.
We finally crested to Camp Muir over 5 hours after we left. We don't have a massive sample size of Camp-Muir tours under our belts, but this was by far the slowest and most trying effort we've had.
It was a welcome sight to see familiar faces at the top — Jarrod had beat us by over an hour, and Brad and Kyle had graciously already cut out our tent platform and started hot water for us. Seriously — you guys all rule.
We set up our tent, unloaded gear, and refueled. As the sun set, the temps dropped. In combination with our exhaustion, we were feeling very cold. Hot water and refueling helped a ton, and we settled into about as deep and comfortable of a sleep that you can have at 10,188′ around 10:30pm.
—
The Suffer-Sandwich.
Inner-Sandwich-Awesomeness-Layer: Rest Day & Summit
The next morning and day were fantastic. We woke up late, ate food, hydrated, and explored Camp Muir. It was great to catch up with friends in the alpine, as well as climb Muir rocks and observe the zoo of day-trippers, disappointed skiers (suncups), as well as guided and non-guided climbers come in and out of Camp Muir. The weather was warm and cozy, and it was almost the solstice, so we had tons of daylight.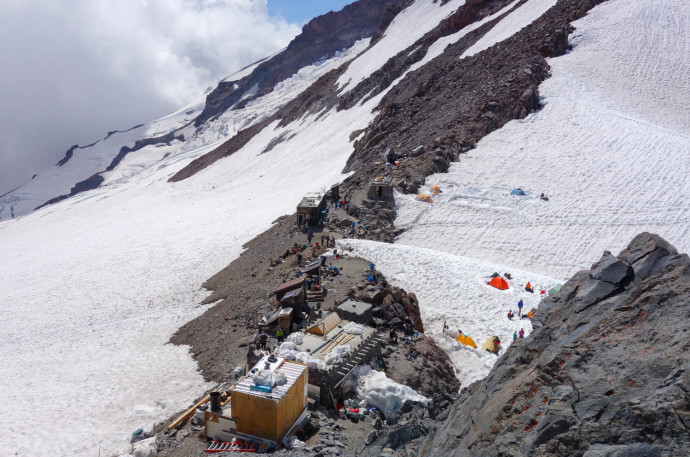 Awesome time spent resting at Camp Muir for the day.

The upper mountain, from Camp Muir
Originally the plan was to move camp on this day to Ingraham Flats, but we opted to stay at Muir to avoid having to lug our gear back and forth over Cathedral Gap. We took care of some permit-red-tape with the rangers and got our gear together as we discussed the route, the plan, the rope teams, and our timing.
Hoping to get ahead of the crowds, we planned for a 10pm wake up and an 11pm start. We made dinner at ~4pm and settled for a few hours of non-sleep rest.
As promised, we were ready, roped up, and heading out at 11, just as it really started getting dark. We set off across the Cowlitz Glacier towards Cathedral Gap in a windless and relatively-warm night.
We found a rhythm in a quick and consistent pace. There was one group ahead of us, and after we crested over Cathedral Gap, we caught and passed them at the first ladder crossing over the Ingraham Glacier, right past the Ingraham Flats camp.
Katy and I continued to cruise, with Brad, Kyle, and Jarrod following behind. We moved around the icebox and shortened our rope as we started to move up the chossy, rotten rock of the lower Disappointment Cleaver.
This was our first challenge: the rock was loose and there was one section in which, in the dark, I could see the next wands over a rocky step. I followed the step up and move over a scrambly section to get to the obvious trail. Katy and I went up without issue and got to the next wands that marked the route.
Behind us, we saw Brad emerge, and then some rock noise and expletives shouted behind us on that choke point.
Evidently, the group we passed was right behind Kyle and Jarrod and followed us to the chossy step. A rock was accidentally let loose, as is possible and likely on the Cleaver, and it rolled/dropped onto a member of their party.
From my understanding, it hadn't caught speed and no one was seriously injured (very lucky). That said, it reinforced an important lesson we already know: when on  terrain, give each other space to get through everything safely. Our teams were doing just that, but either miscommunication or other circumstances led to narrowly avoiding what could have been a nasty rockfall accident.
Once our two rope teams were over that step, the rest of the moving up the cleaver was quick, albeit awkward since moving over chossy rocks with crampons isn't often graceful. We finally hit continuous snow at about 11,200′.
Once on the snow, we pushed our ascent into the next gear. We encountered a few ladders on the way up, but we crossed over them efficiently and didn't lose much time. Katy and I were working really well as a 2-person team: we had found a rhythm to both our speed and in setting up the belays over ladders.
Both on the upper and lower sections of the route, the bootpack was obvious and often cutting a deep trench between large penitentes and suncups. Even at night, in the cold, it was evident of how warm it gets during the day and what kind of temperatures we could expect during our descent.

Both earie and secure feeling moving between the penitentes.
We finally crested the summit crater at about 4:45am, just as the sun was coming up.
It was unreal: the entire summit cap was glowing orange with the day's first light. We were alone on the highest point in the state, with sweeping 360 degree views of the Cascades, the Puget Sound, Oregon, and multiple other Volcanoes. We snapped a few photos and reveled in the experience, spending nearly an hour enjoying the views. Not sure what other words here: it was surreal.

Awesome sunrise, and the summit to ourselves.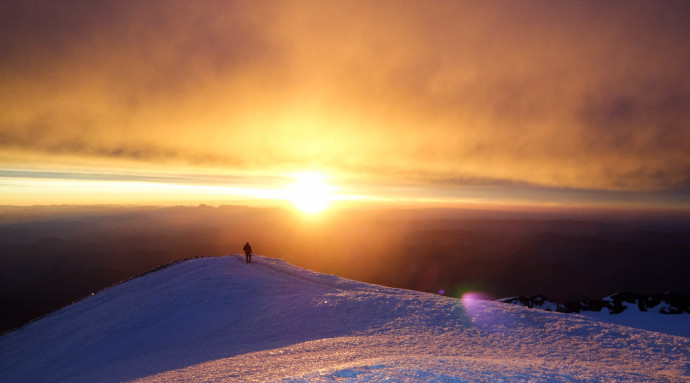 Brad cresting the summit ridge.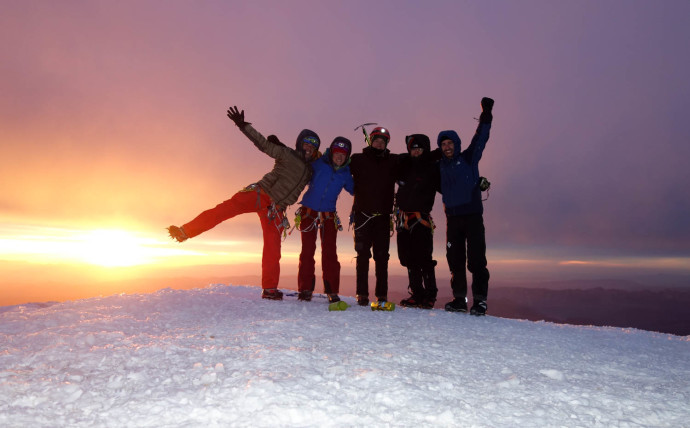 Our group on the summit. Stoked!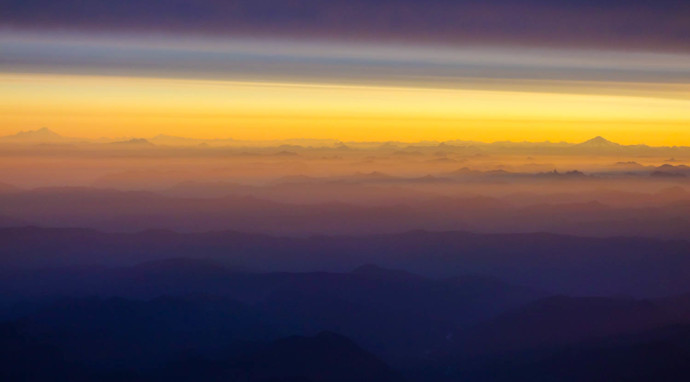 View from the summit, looking north. Glacier Peak on the right and Mt Baker on the left, rising above the North Cascades.
With summit winds picking up a bit, we sheltered on some thermal ground near the summit register. After a few more minutes of rest, we donned our packs and started heading down. Right as we crested the crater rim on our way down, the winds picked up even more and some weather began moving in towards the higher mountain. Yet again, we had good timing.
A couple hundred feet down our descent, we passed a pretty massive line of climbers — a mix of guided groups and independent parties all headed up, who must have left Camp Muir around the same time. I imagine summitting with 40+ other people would have been a whole other Rainier experience for me, and I was glad we were already on our descent.
We continued on, past the now-very-obvious-in-the-daylight icefalls and seracs, over a couple precarious crevasse ladders, and back onto the cleaver. We reached the Ingraham Flats at about 8am, just as the day's heat started ramping up. Ditching our warm layers and refueling, we made the final push back over the Cathedral Gap to our base at Camp Muir.

Brad crossing one of the ladders on the route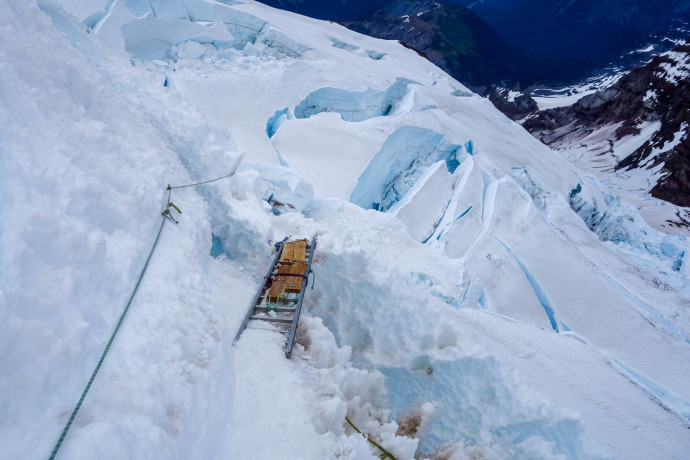 One of the more consequential ladder crossings on the route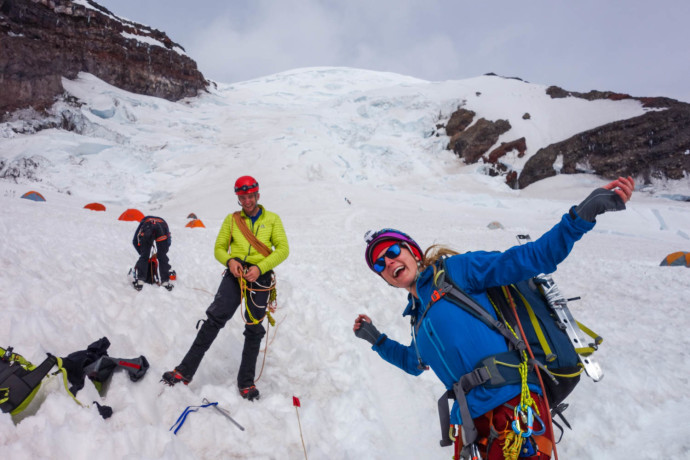 Stoked to be back at Ingraham Flats after a successful summit!
We arrived back at Muir around 9am, and after a leisurely nap and packing up, we were ready to start heading back down at ~1pm.
And with that, the middle, awesome, successful part of the Suffer-Sandwich ends, and the crappy misery that was dragging myself back to the car begins.
—
The Suffer-Sandwich.
Outer-Suffer-Sandwich-Layer-2: "Our splitboards are heavy." 
Once again, the root of the issue was in our decision to bring up our splitboards. Now fatigued from our summit-day just hours earlier, my pack felt even heavier. Katy and I got ready to attempt to ride down the Muir Snowfield.
We strapped in a few feet off of the bootpack, and hoped that the snow would be soft enough for the suncups to be easily ridden through/over. It was not soft enough.
The first few turns were rough, as we both caught edges on the suncups and fell almost immediately.
A few more turns, and not 150 vertical feet past our starting point, I took a nasty spill and felt a bad twist in my back. After taking off my pack and resting for a couple minutes, I decided to call it on the snowboarding.
Putting on my pack again, I felt a shooting pain in my lower back, and decided that strapping my board to the pack would only make whatever I twisted feel worse. I got ready to haul my splitboard down the 7ish miles and 4000′ of vertical back to the car. Fun times awaited!
The remainder of the descent was hours of death-marching. With tired legs and sloppy hiking, I continued to slip on the suncups and fall over as other hikers and climbers would glissade past me. I was getting hot, thirsty, and hungry, but was refusing to stop and take care of myself. It was stupid — I should have stopped and made my life a lot easier, but I chose to embrace the discomfort and frustration for hours on end instead.
Maybe I was trying to teach myself a lesson, or maybe train for future sufferfests, or maybe I was just being stubborn.
It was mentally tough — I knew that the descent from Muir could have taken us less than an hour on decent snow, and I knew that if I didn't have my snowboard I could have glissaded or hiked down much faster and more efficiently. Yet here I was, slogging down, overheating, parched throat, hungry, and thoroughly enjoying how much I was hating it.
Katy, who was ahead (and managed to find a few hundred feet of ride-able snow) but now in her own world of similar suffering, waited for me a bit above Pebble Creek, and together we slogged the last 4 miles back to the car. This part was especially rough as it felt like the trail and pavement only made the conditions hotter, and again, I didn't want to stop to rest, drink, or ditch layers. At this point, I just wanted to make it back to the car. Luckily, with someone like Katy to share that misery with, we got through it. My wife rules.
I guess that's part of alpine climbing, letting the trip build your character through suffering and persevering in the face of adversary. Or something.
…Or maybe I should have stopped, drank water, fueled on some food, and moved faster.
…I probably should have stopped, drank water, fueled on some food, and moved faster. Oh well — lesson learned.
Either way, it took me a long and painful four hours to get to the car.
Finally at our trusty Subaru, I plopped down on the curb, and couldn't decide whether to laugh at my idiocy or pretend that it didn't happen at all. I decided instead of either, to drink the beer that Katy poured for me, and enjoy that we got back to the car safe (but sore).
Even better, I shared that beer with some awesome climbing partners (who we caught back at the car), and we cheered to a successful summit of Rainier.
Suffer-sandwich or not, we had a safe, efficient, and enjoyable summit day with a great crew that worked well together. It's going to feel good to look out on that mountain and finally say that I've been to the top.
As we rolled out of the Paradise parking lot, excited and tired with our trip, we already started talking about the next attempt — that's the thing about Rainier — once doesn't feel like enough.
(more photos at Flickr)